I. Introduction
Early in the initial launch of DDR5, KingBank took on the role of a price killer pioneer. Although the initial frequency of their RAM sticks with Samsung dies was only 4800MHz, they could easily reach 6000MHz+ with some overclocking. Combined with the very affordable pricing at the time, it made a strong impression among players.
Nowadays DDR5 has entered a period of rapid development, especially after the emergence of Hynix A-DIE chips. All kinds of high frequency RAMs are easily available, but of course, at rather high prices. This time again KingBank led the launching of a new generation of DDR5 memory models with super performance at the possibly lowest price. The KingBank SharpBlade DDR5 6800 16G×2 (C34) Gaming DRAM shown here, uses original Hynix A-DIE chips, and combined with a 10-layer PCB optimized design, it can achieve the high frequency of 6800MHz.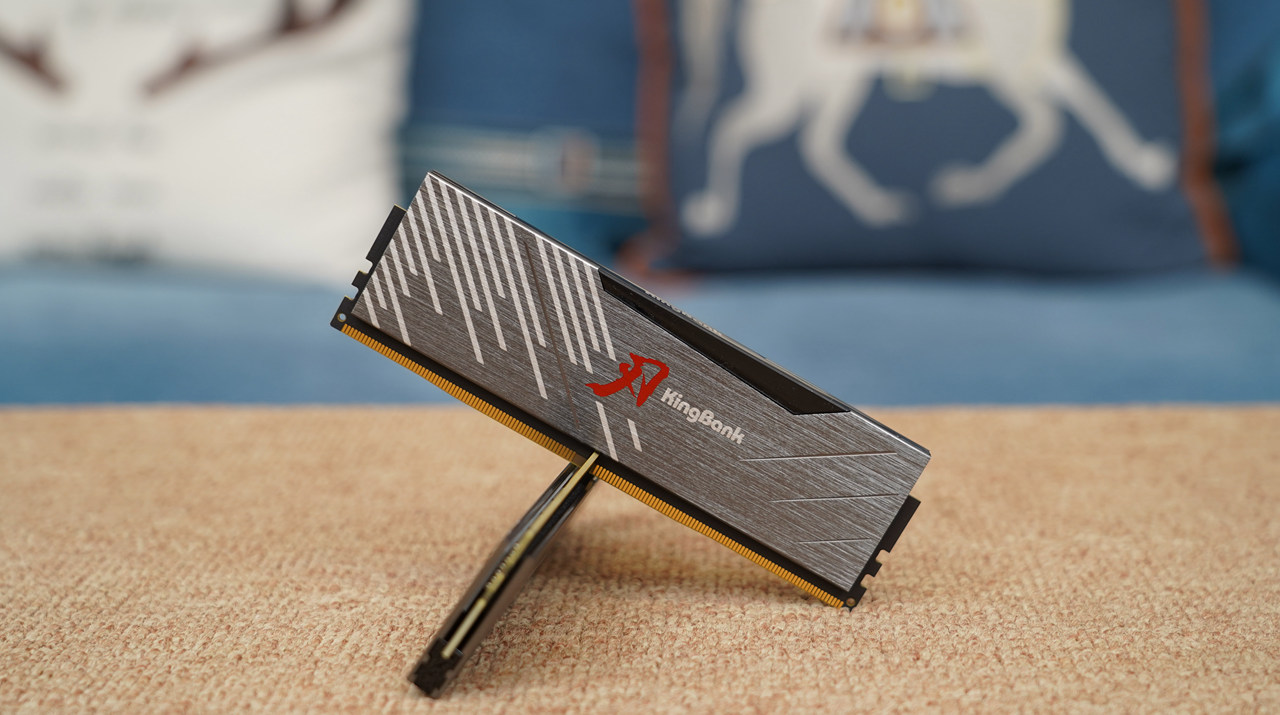 II. Unboxing
The memory uses the same packaging as the Blade series, with a simple low-key black front, steady and stylish.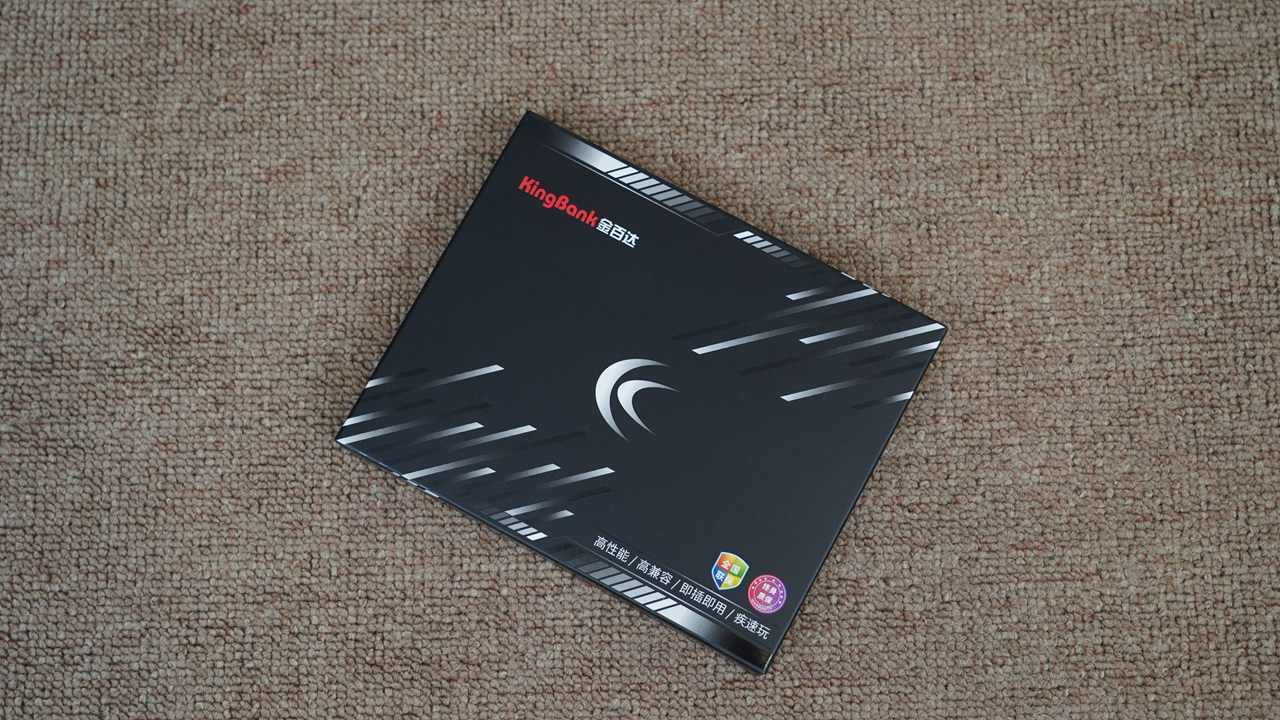 Rear view of exterior packaging.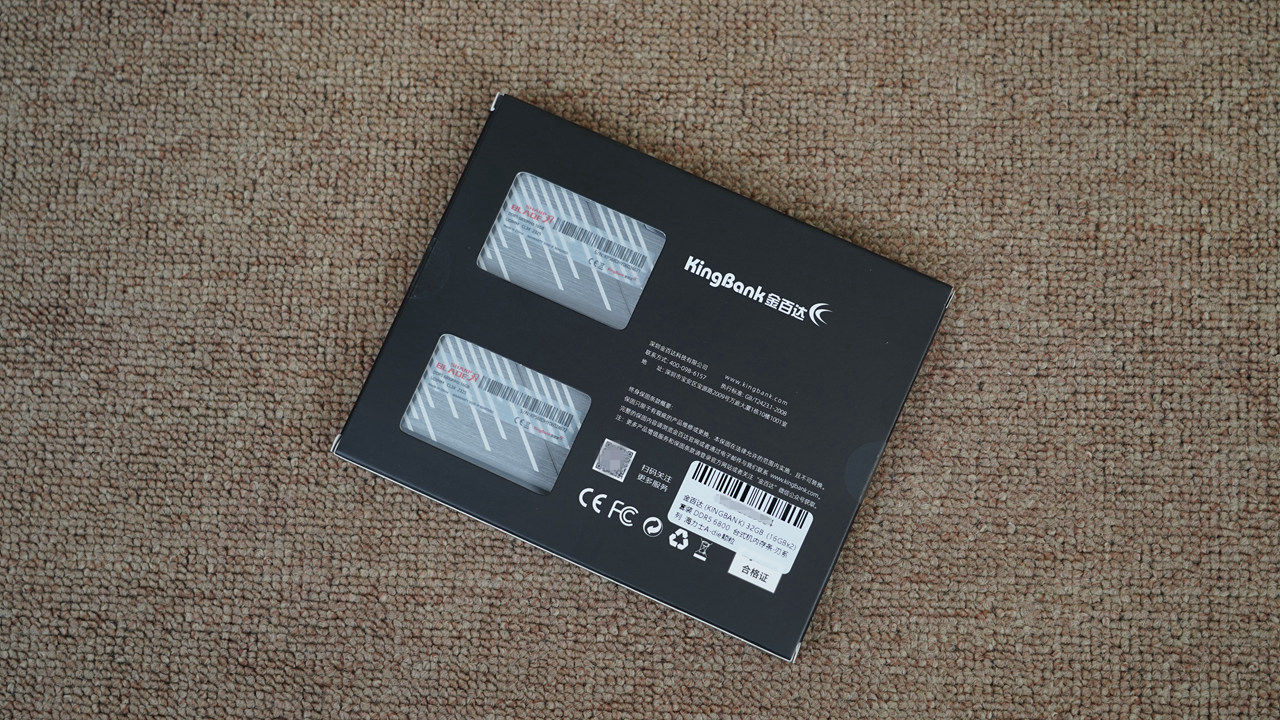 Inside has a plastics support to hold the modules.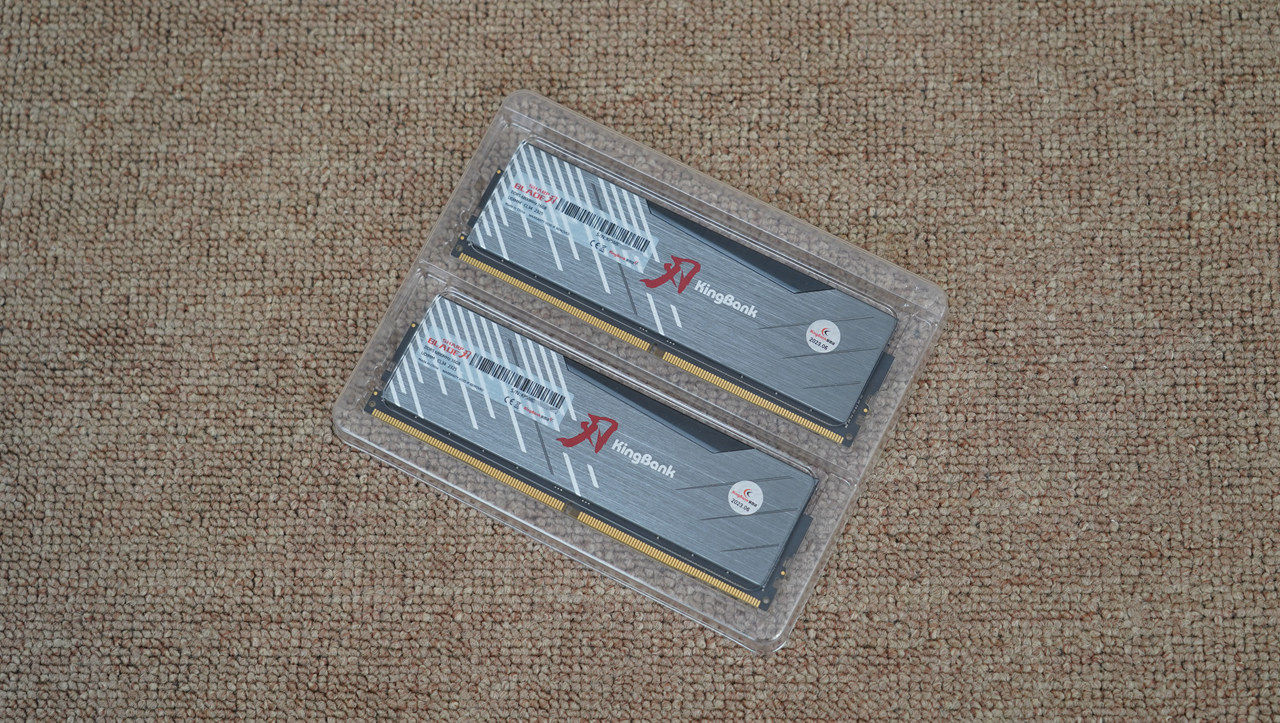 The memory stick adopts a black metal heatsink with decent quality. The single-sided metal reaches 2mm thick, which greatly enhances the heat dissipation.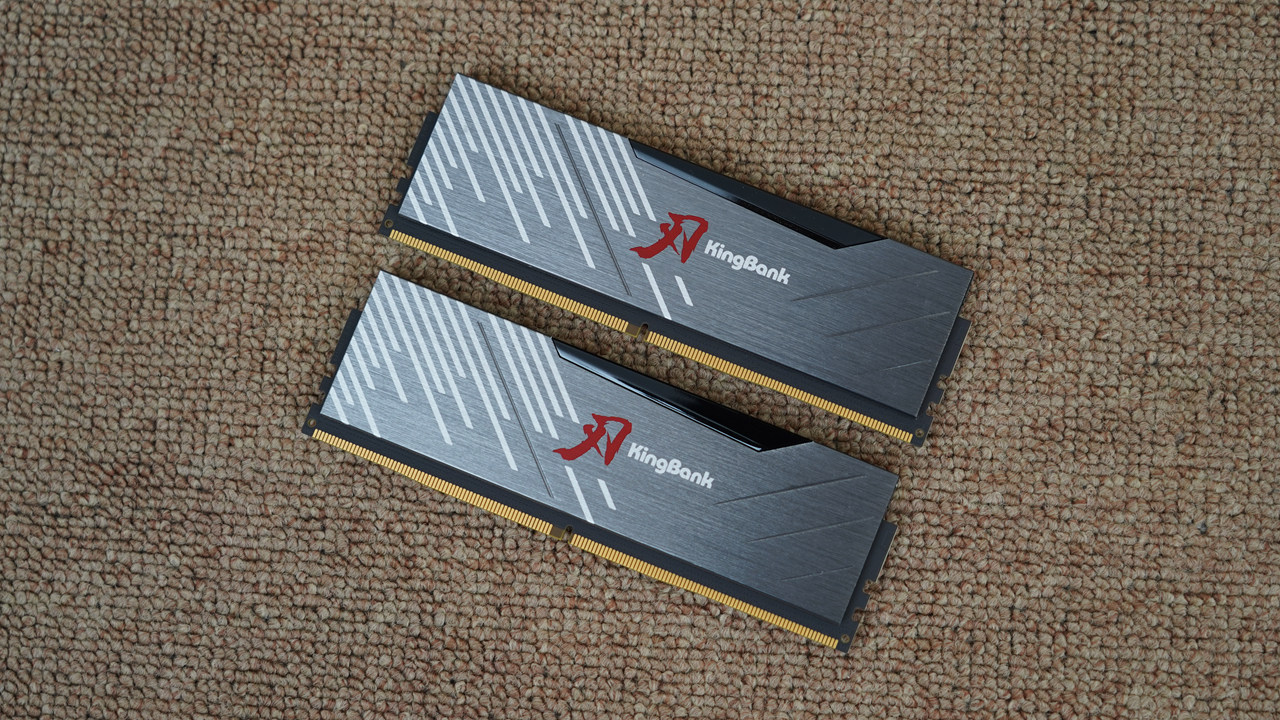 Compared to the RGB SharpBlade models, this Black SharpBlade one feels more steady and stable.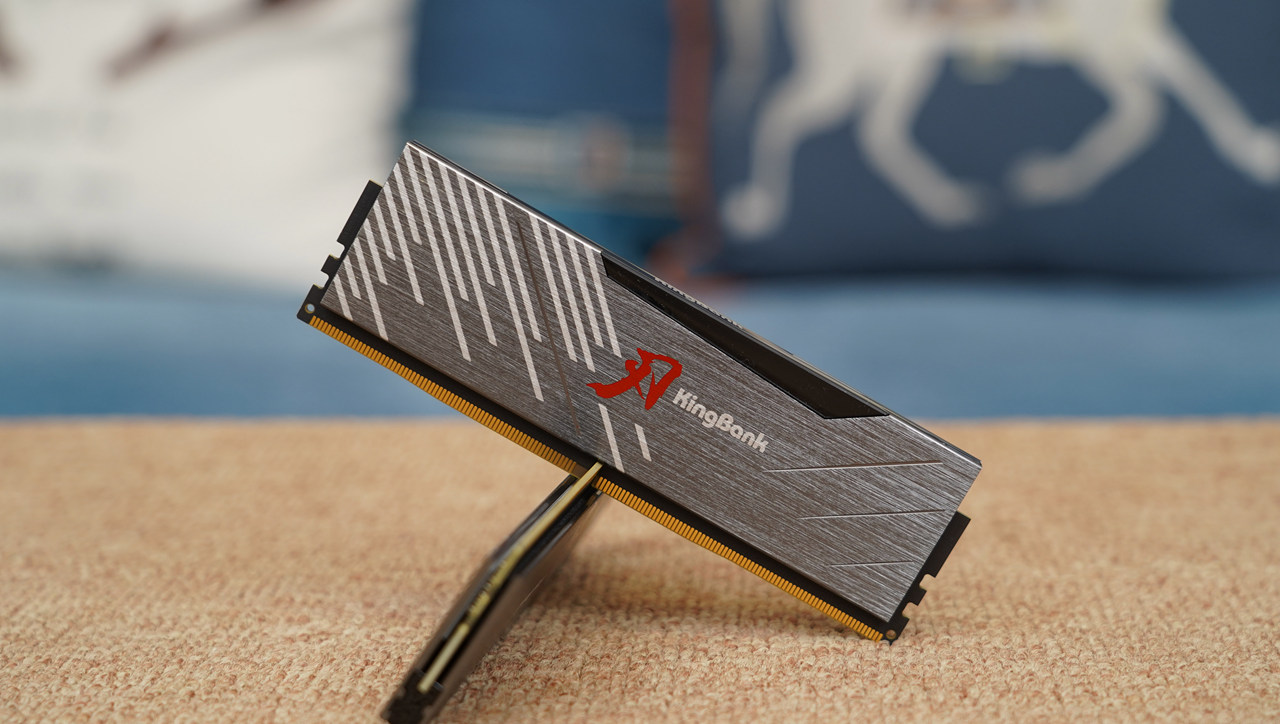 The back is basically the same as the front, but the label has been moved to this side.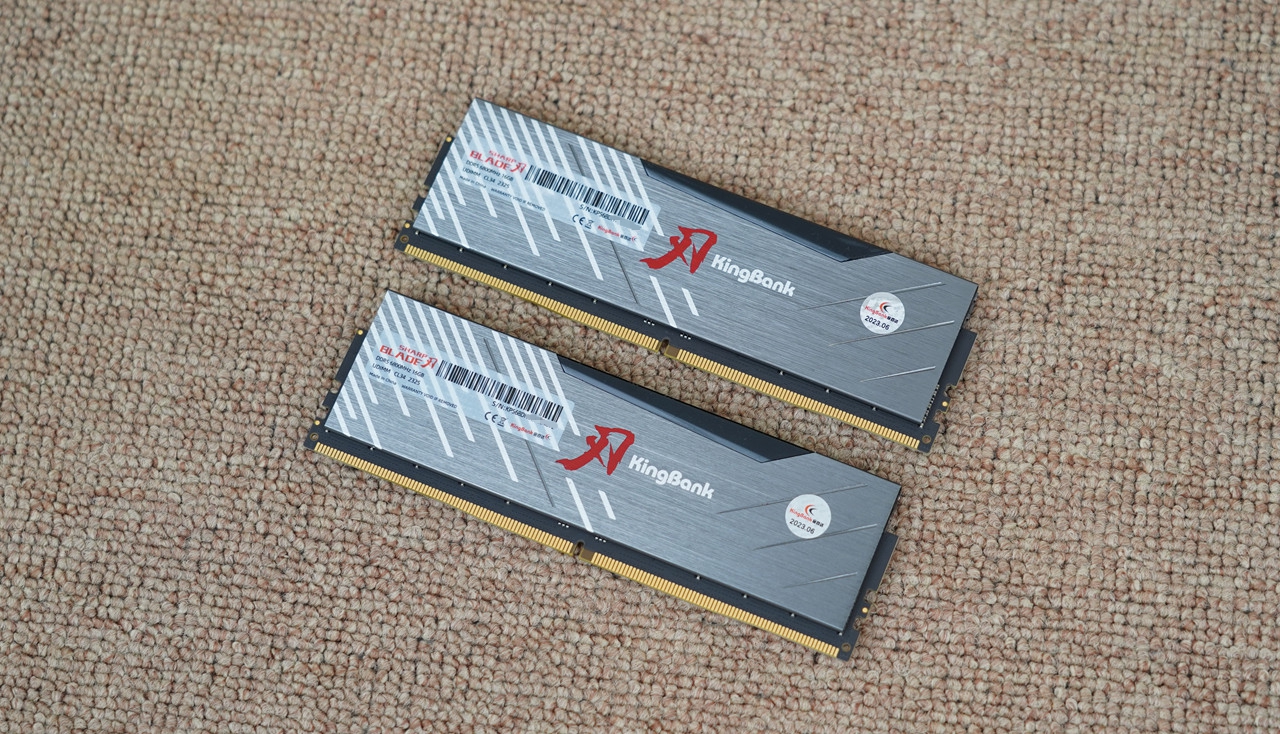 Close-up of the label.
Overview of the shoulder part. This version is a non-RGB design with an overall steady matte-black style.
Of course, this series also has the RGB versions for players who enjoy flashy lighting.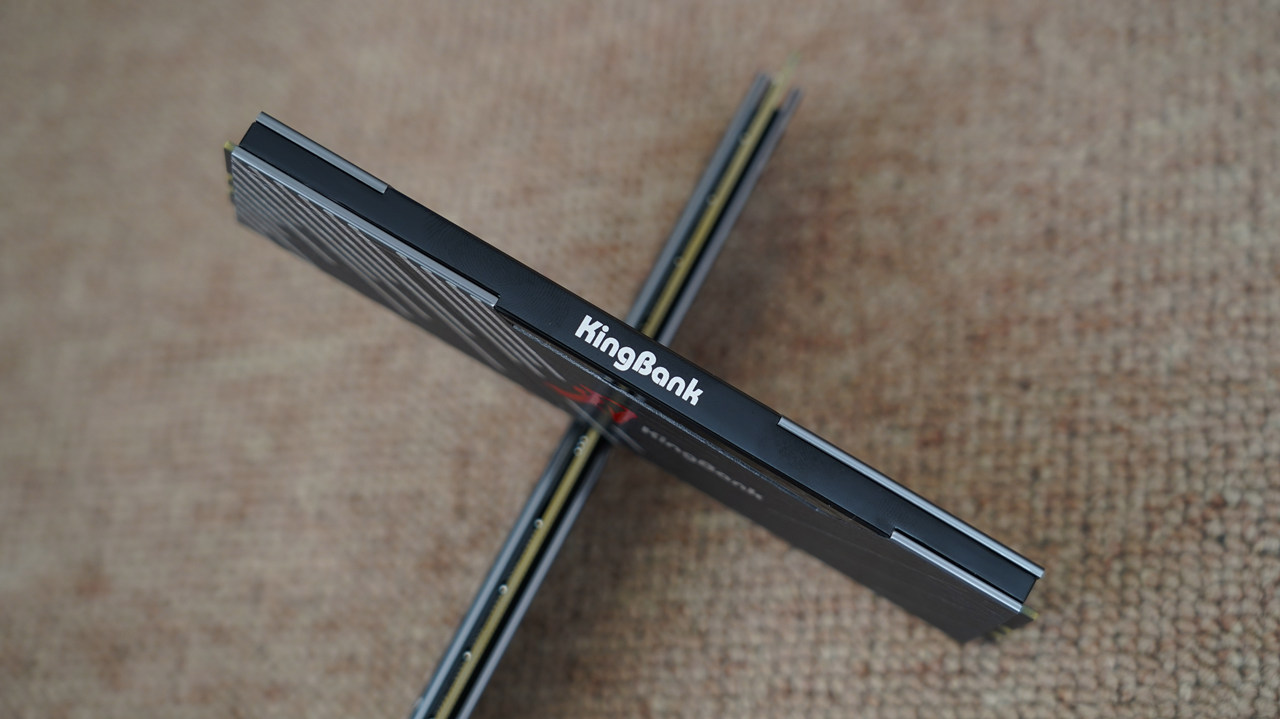 A close-up shot, the workmanship of the memory's gold fingers and edges is still very solid.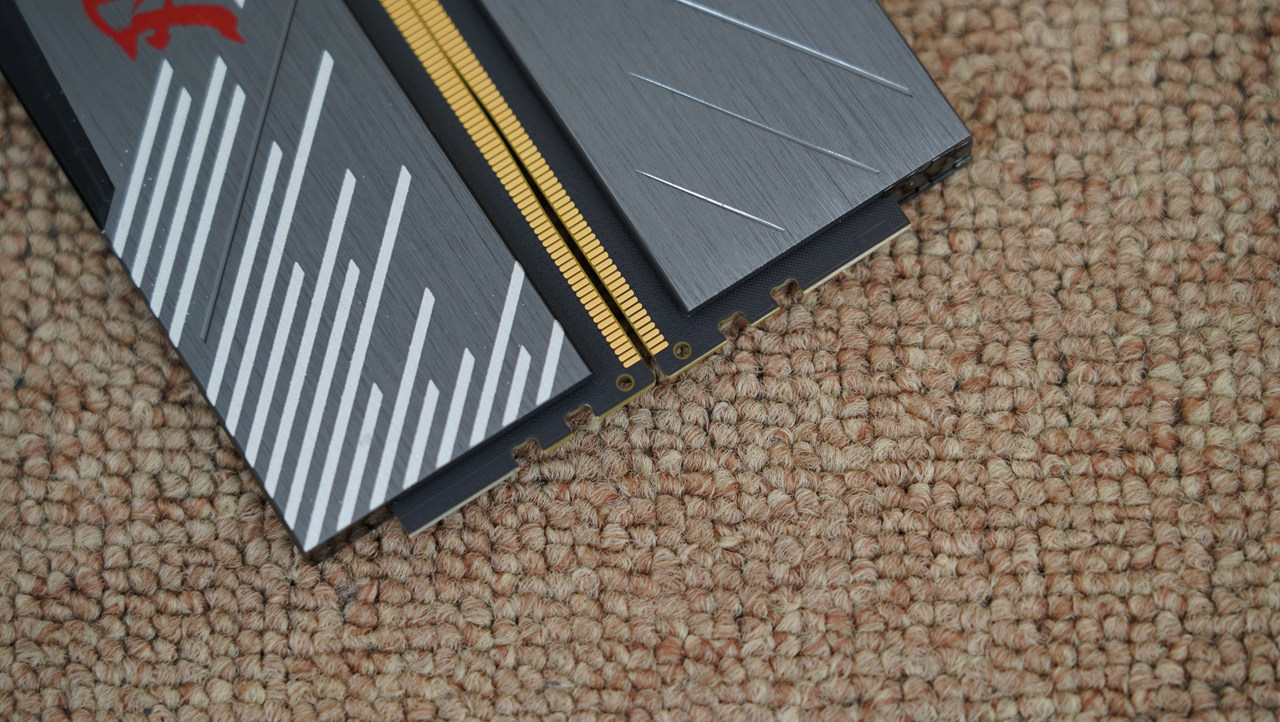 III. Testing
Overview of test platform configuration: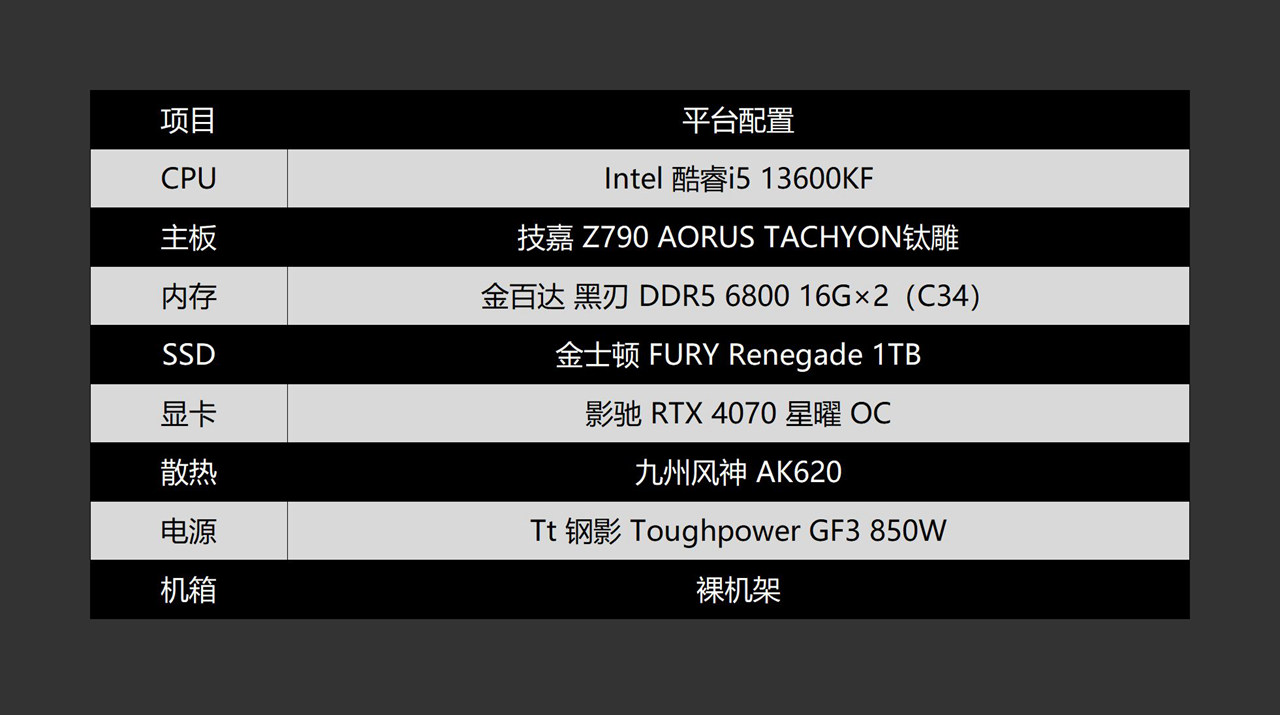 Due to overclocking tests involved, a barebones platform was used for easy debugging.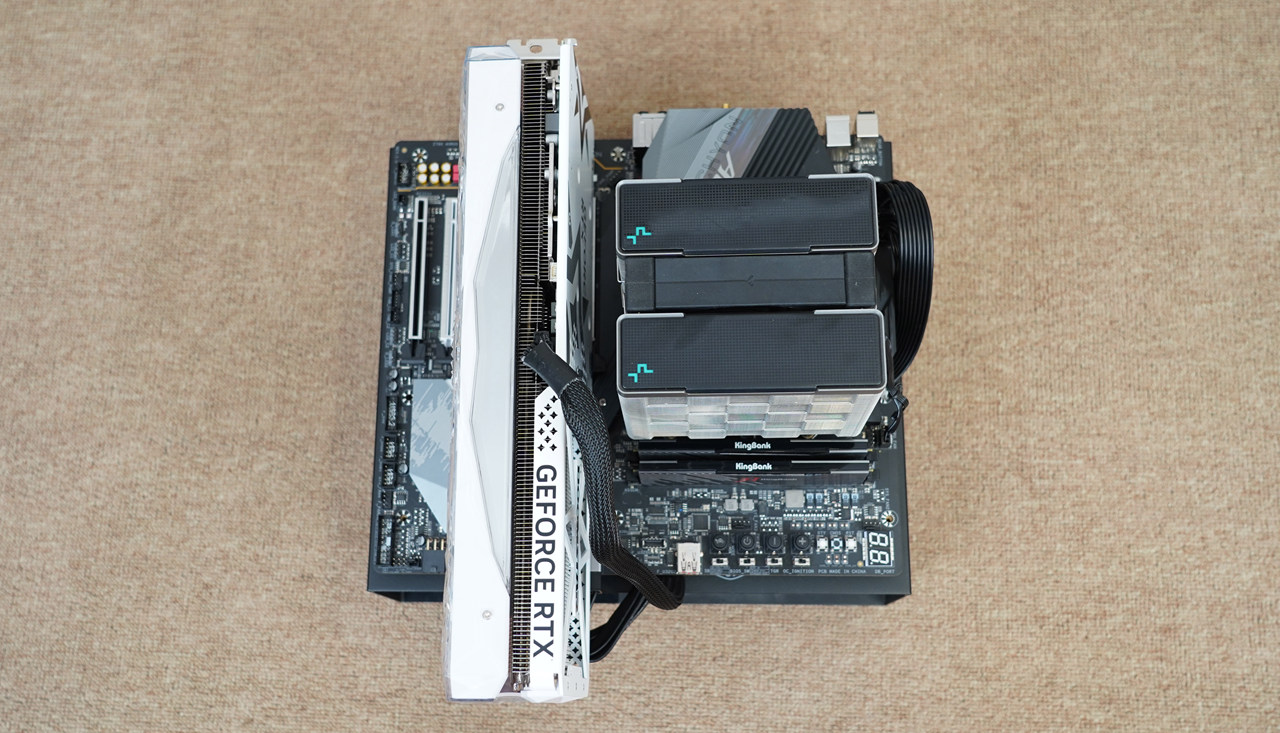 Close-up of the memory.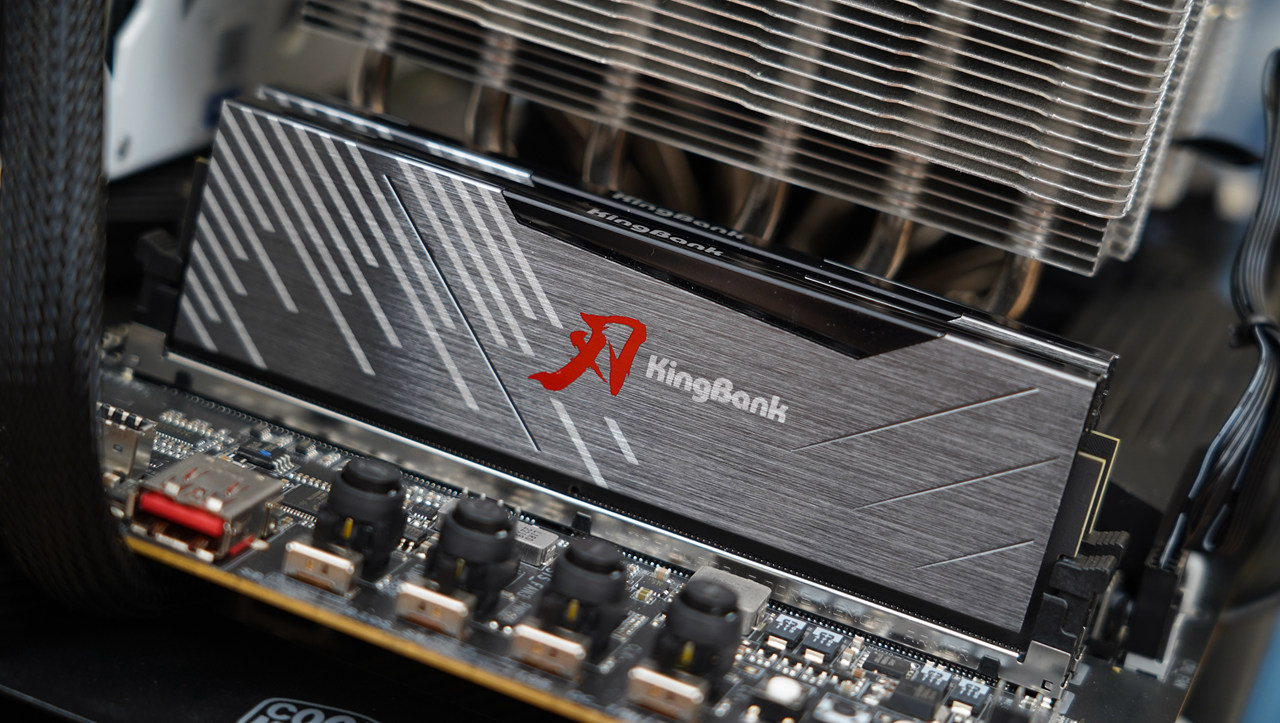 Testing begins. The system used for this test is 64-bit Win11, motherboard BIOS version F5.
The default frequency of the memory is DDR5 4800MHz (CL 40-40-40-76).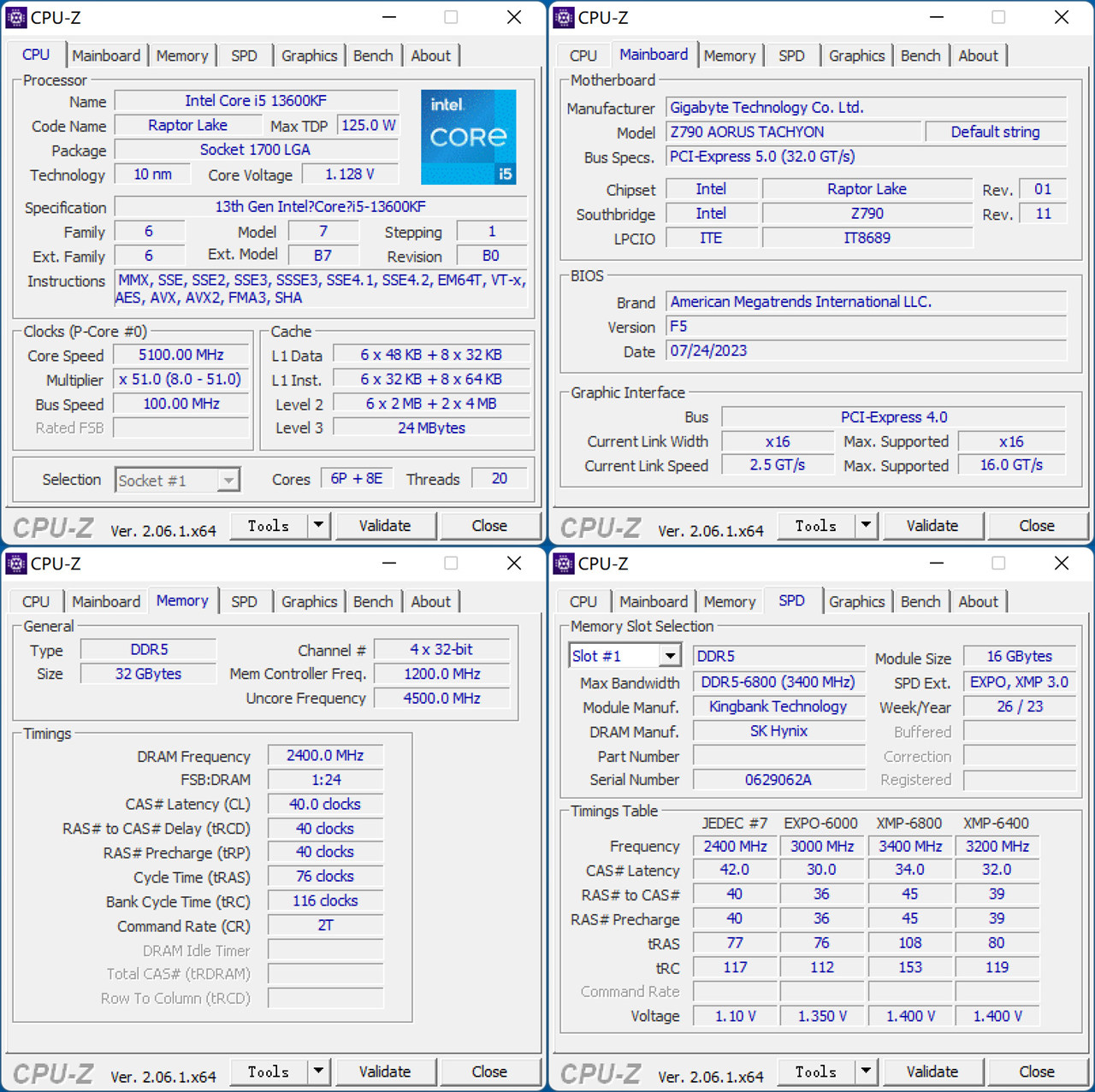 The memory supports AMD EXPO and Intel XMP 3.0 technologies, with a total of 4 preset frequency groups: JEDEC 4800MHz (CL 42-40-40-77), EXPO 6000MHz (CL 30-36-36-76), XMP 6800MHz (CL 34-45-45-108) and XMP 6400MHz (CL 32-39-39-80).
For ordinary players, these parameters may seem of little significance. But simple as that, just one click, and we can enable XMP 6800MHz (CL 34-45-45-108) to achieve optimal performance.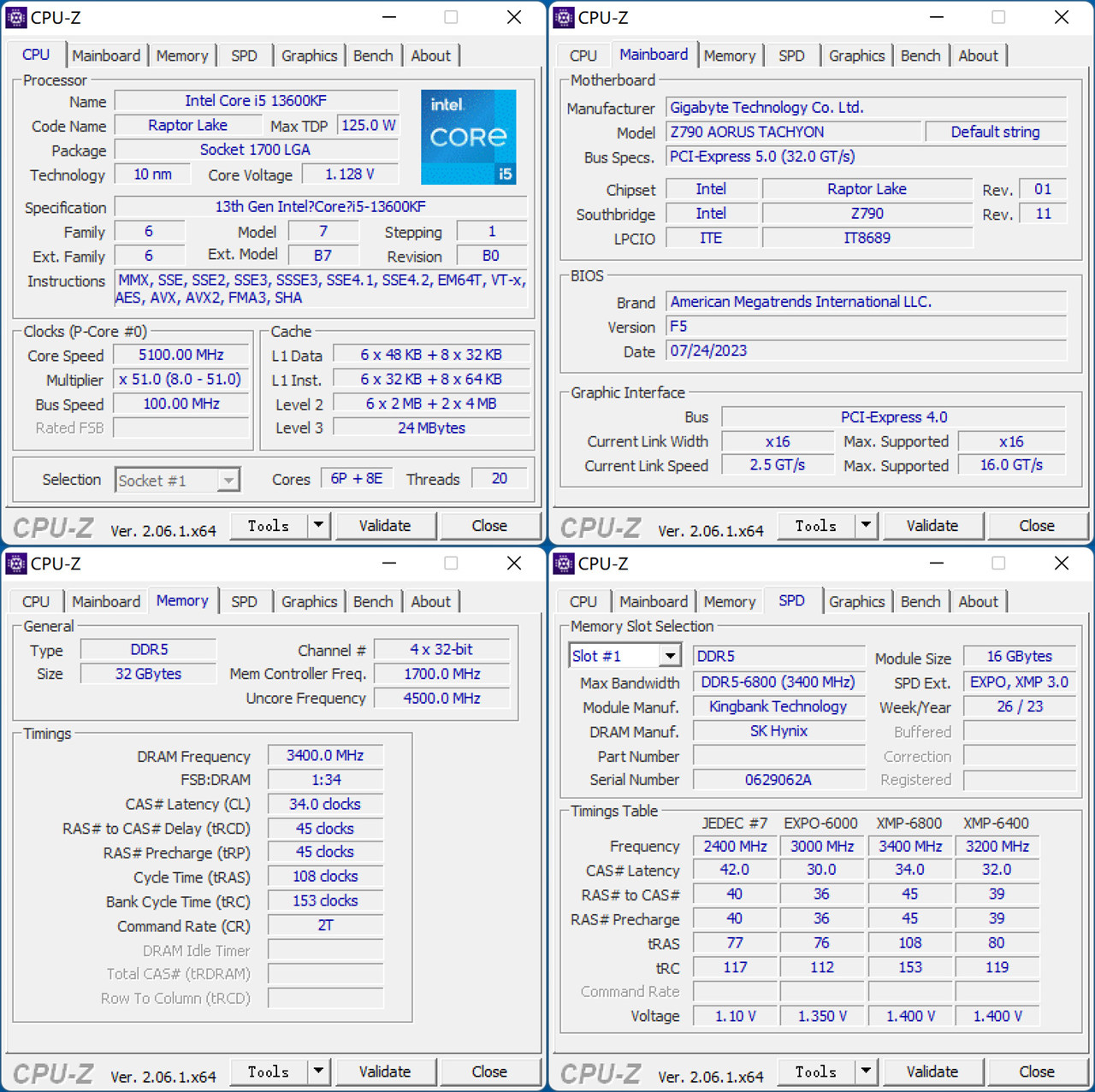 Let's start with some theoretical performance testing, starting with CPU-Z benchmarks.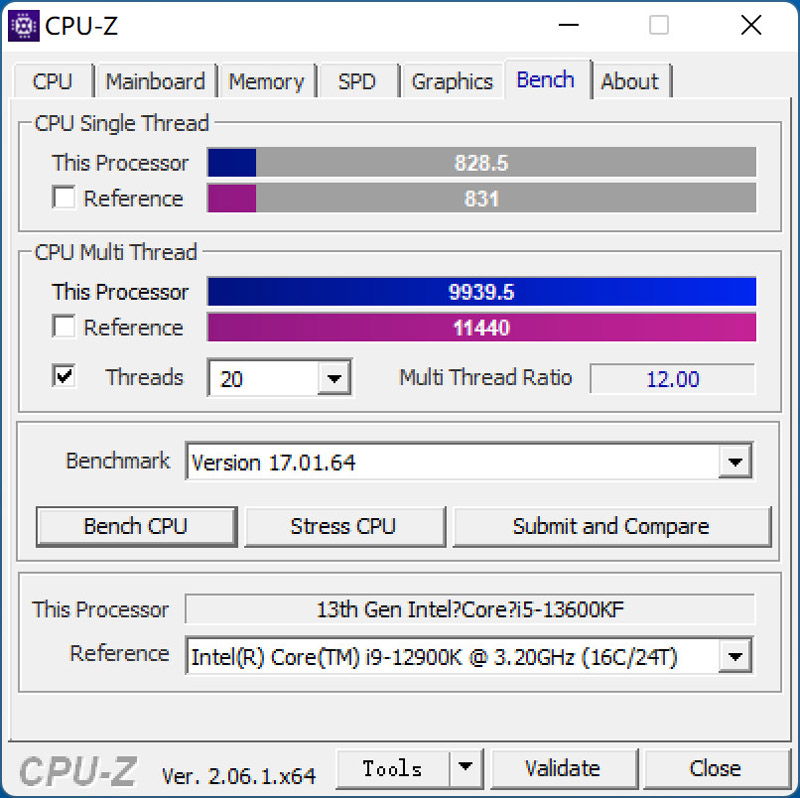 In CPU-Z testing, enabling XMP has slightly improved single core and multi core performance compared to default frequency.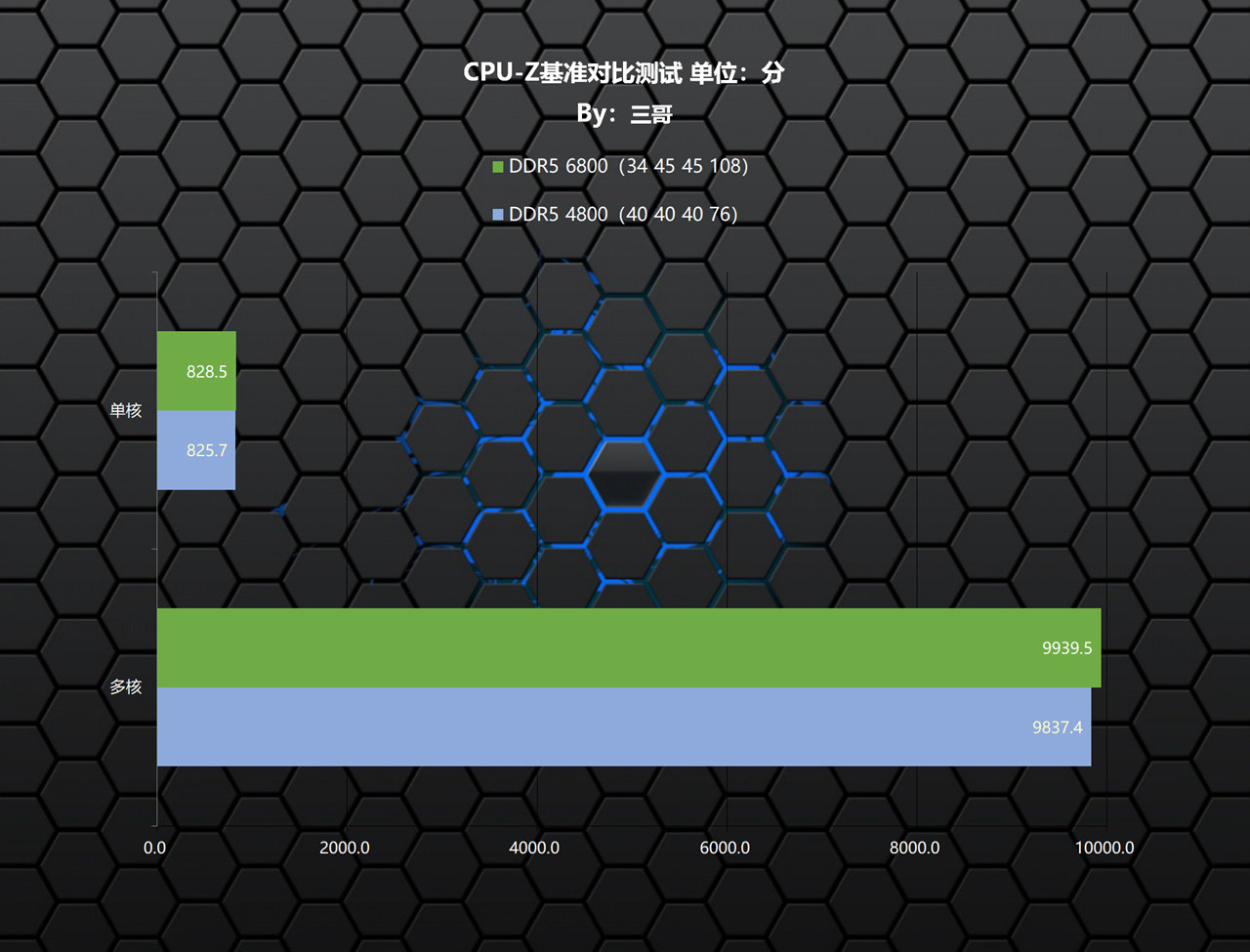 7-ZIP compression and decompression benchmark test.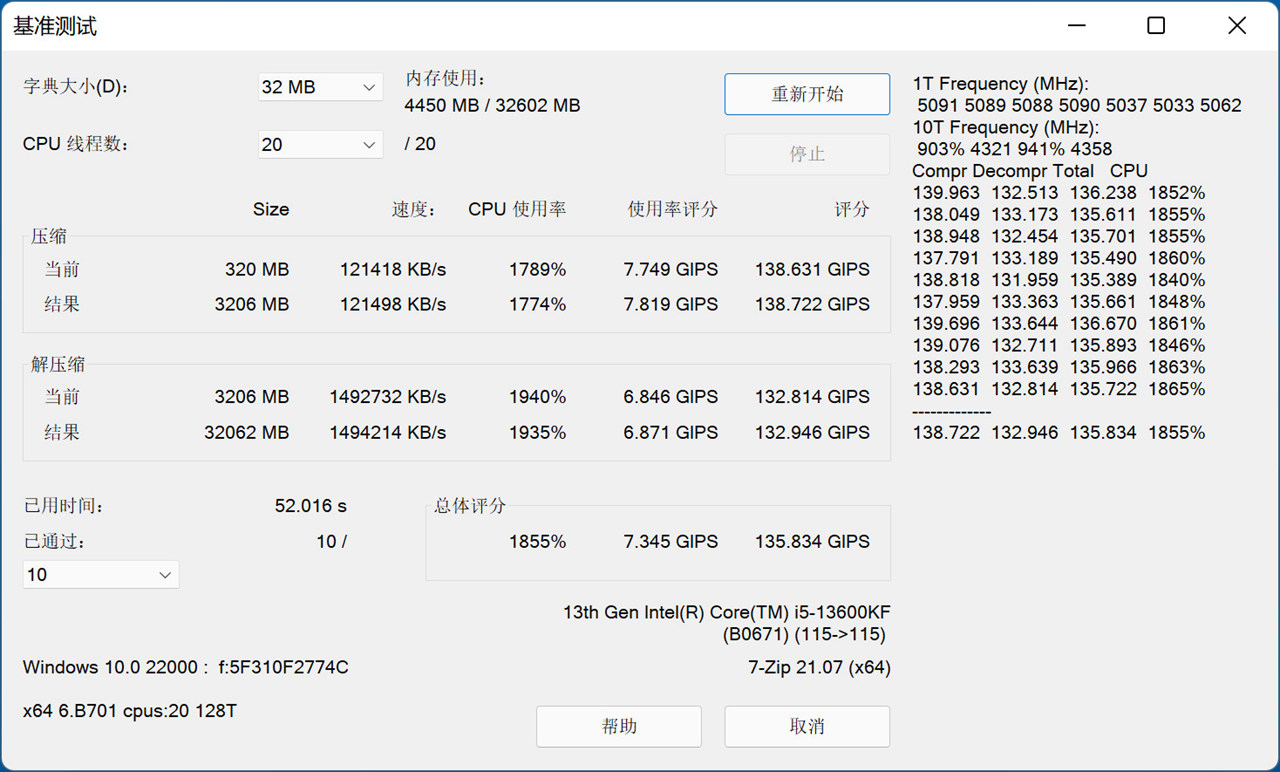 In this test, enabling XMP has respectable improvements in compression and decompression performance compared to default frequency.
AIDA64 memory and cache benchmark test.

In this test, enabling XMP has very large improvements in memory read, write, and copy performance compared to default frequency.

Latency is also greatly reduced.

Self-media videos are popular nowadays, let's try a video transcoding performance test.

In this test, enabling XMP reduced the time for video transcoding by 15s compared to default frequency, which can save 14.42% of time. This shows that high frequency memory has a noticeable benefit for video editing.

Professional test - V-Ray CPU rendering test.

In this test, enabling XMP also improved rendering speed compared to default frequency.

Graphics performance testing, starting with 3Dmark Fire Strike test.

In this test, enabling XMP increased the total score, physics score and graphics score compared to default frequency.

3Dmark Time Spy test.

In this test, enabling XMP had a large increase in CPU score compared to default frequency, with slight increases in total score and graphics score.

Game testing, tested games include PUBG, Far Cry 5, Total War Saga: Troy, Far Cry 6, Civilization 6, and Rainbow Six Siege. Testing method uses built-in benchmarks, and for games without benchmarks like PUBG, uses video playback testing.

At 1080P resolution, enabling XMP had good frame rate improvements in all games compared to default frequency. Larger improvements were seen in PUBG, Rainbow Six Siege and Far Cry 5 with frame rate increases of 35.06, 29.00, and 21.00 respectively. For players who enjoy these types of games, sometimes high frequency memory has an even more noticeable effect than upgrading to a better graphics card.

At 1440P resolution, as resolution increases, the benefits of high frequency memory on game frame rates are less pronounced than at lower resolutions, but there are still certain improvements.

Stability testing, the memory was able to pass MemTest with 100% coverage after enabling XMP, with temperatures maintained at a relatively low just above 60°C.

Overclocking test.
As this memory uses A-DIE chips, achieving 8000MHz with the Titanium motherboard is quite easy, with timings maintained at CL 38-46-46-120.

This frequency can successfully light up and smoothly enter the system.

It can also smoothly pass the AIDA64 memory test. At this time, the memory write speed exceeds 120GB/s, and the read and copy speeds also exceed 115GB/s.

To summarize, it can be seen that the memory read, write, and copy performance has been greatly improved again after overclocking.

Latency is further reduced.

IV. Summary
Through hands-on experience, the KingBank Black SharpBlade DDR5 6800 16G×2 memory modules have solid workmanship, meticulous materials. The 6800MHz XMP frequency is also quite high, while the whole kits strike at a pretty competitive price. Holding great potential to overclock, these modules can further unleash its performance with high-end motherboards.
Now go get yourself a pair of these memory treasure.
The article was originally posted on the WeChat Official Account of KingBank in Chinese; the English version was excerpted.
Original article link: https://post.smzdm.com/p/ad9npd3p/
Scan to follow our official account on Wechat and gain more leading information: