Product Analysis
This year can be said to be a year of plunging prices for flash memory and RAMs, and it is the spring for us DIY builders. DDR5 has fallen all the way from the four-digit price of 32G last year to only six or seven hundred to own 32G high-frequency memory.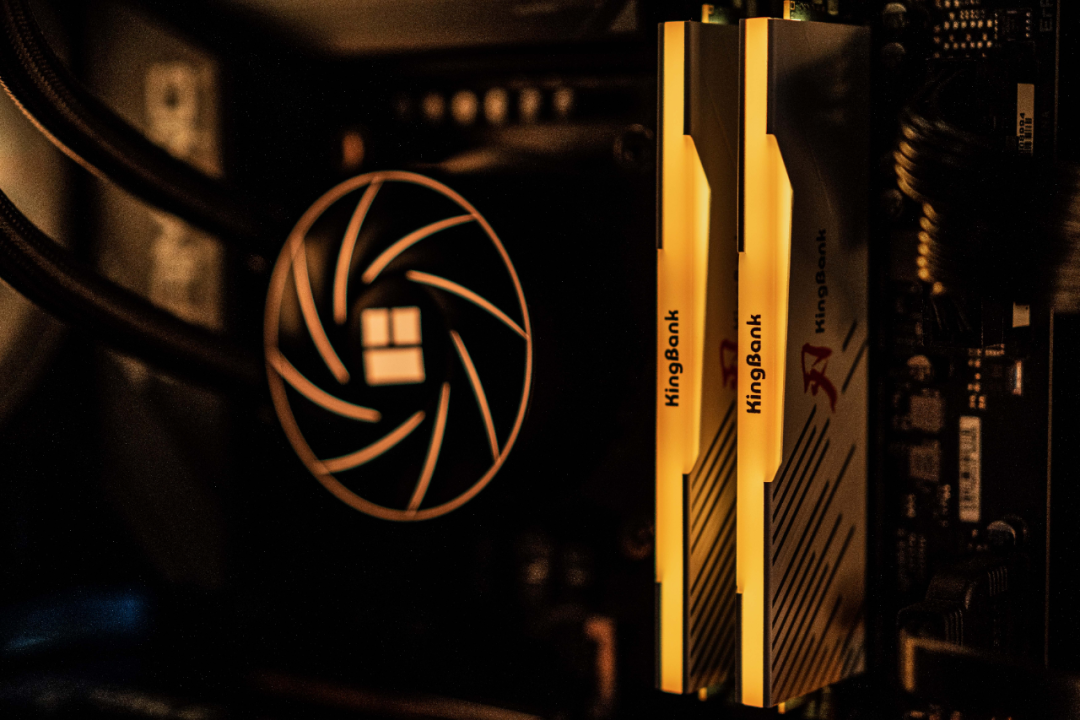 Although the per capacity price of DDR5 is still slightly higher than DDR4, as the price of DDR5 chips continues to decline, the cost difference between the two is getting smaller and smaller. It is really not easy to buy DDR4 versions of new chipset motherboards like Z790, X670, and B650. Ryzen 7000 has directly abandoned DDR4. Z690 still has DDR4 and DDR5 options to choose from. With the discontinuation of old chipsets and inventory clearance, the price difference between the two gets even smaller. Some stores have the same model of D4 and D5 motherboards at the same price. The price per 8G capacity of DDR5 has also come to between 100 and 200, which is about the same price as DDR4 last year. Don't wait any longer, friends! Take advantage of the current low prices of the DDR5 platform, upgrade if you need to upgrade, and indulge if you want to indulge!
Recently I got a set of very cost-effective DDR5 RGB memory to unbox and share with you!
Let's first talk about the basics of this memory: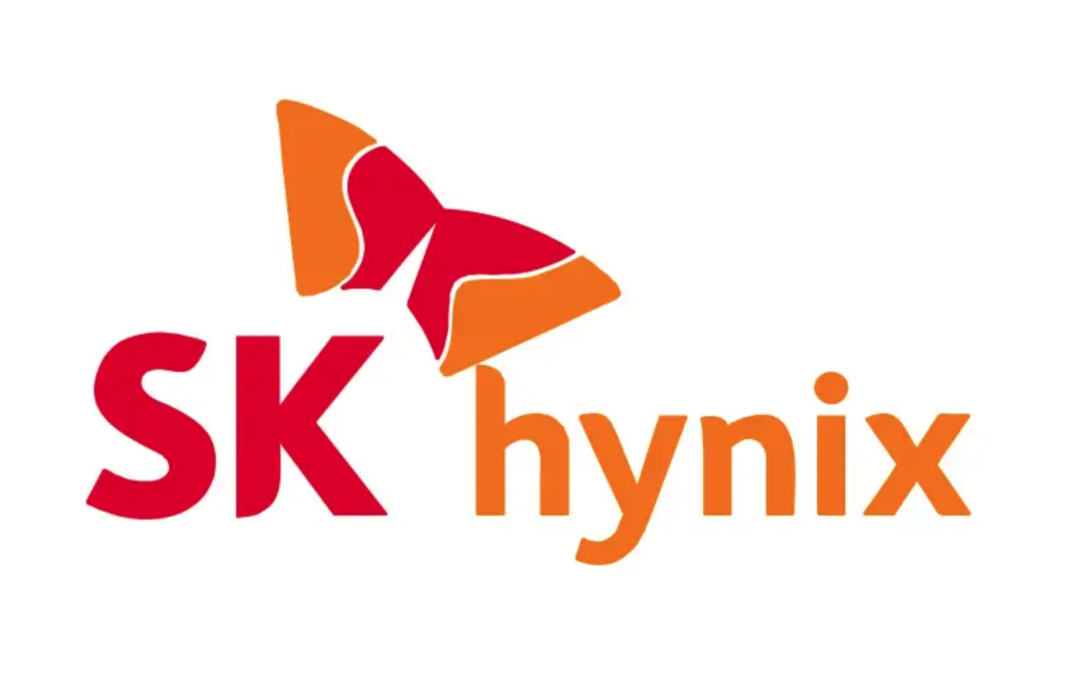 The most important thing when choosing memory is to look at the chips. This KingBank memory uses the second generation SK Hynix A-die chips. It can basically overclock to 6000~8000MHz on mainstream platforms, but 7000MHz and above requires excellent motherboards on new platforms, while CPU imc performance cannot be weak either. The amount of heat generated will also be very large. I recommend keeping the frequency between 6000 and 7000 for daily gaming and work, which is optimal.
In the DDR5 era, SK Hynix's A-die is absolutely the most outstanding. Just like Samsung's B-die in the DDR4 era, it focuses on high frequency and low latency. When purchasing memory, the most important thing we need to look at is the chip. Different brands will purchase the same chips, and then compete on tuning capabilities, heat dissipation capabilities and very importantly, price!
In terms of frequency and timings, KingBank's Blade XMP preset frequency is 6400MHz, timing CL32, with ultra high frequency and ultra low latency, excellent performance.
Unboxing
Let's unbox and take a look at the memory itself.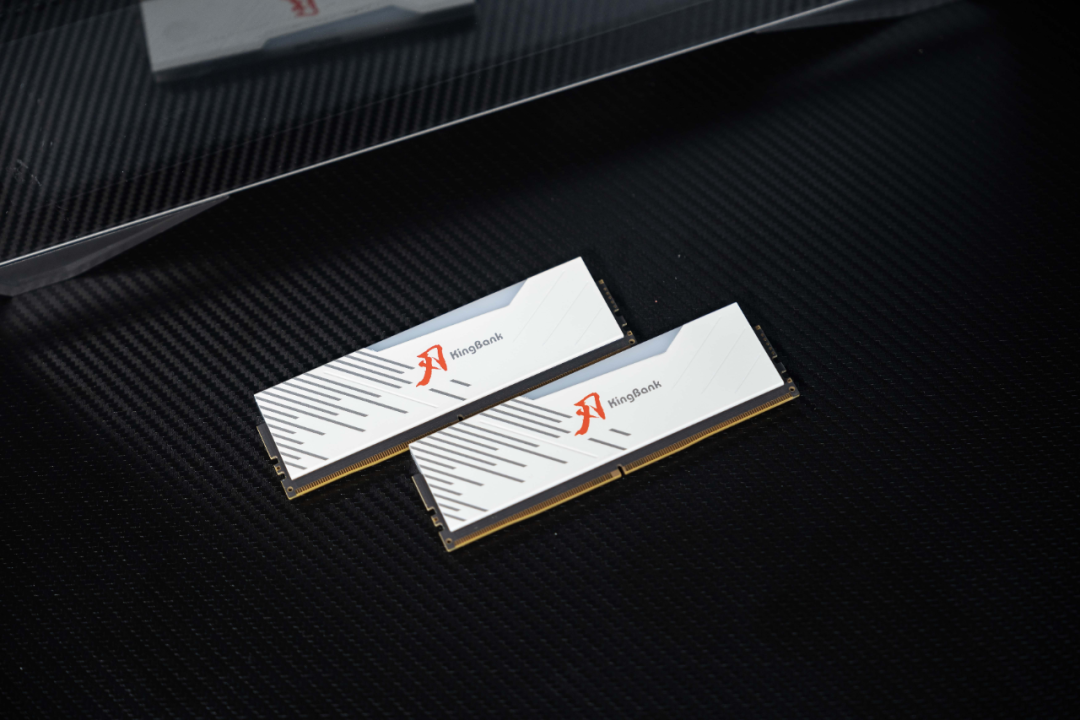 The SharpSharpBlade series belongs to KingBank's high-end product line, with white metal heat spreader paired with RGB light strips on the top. The armor is rectangular with white metallic paint finish and looks great.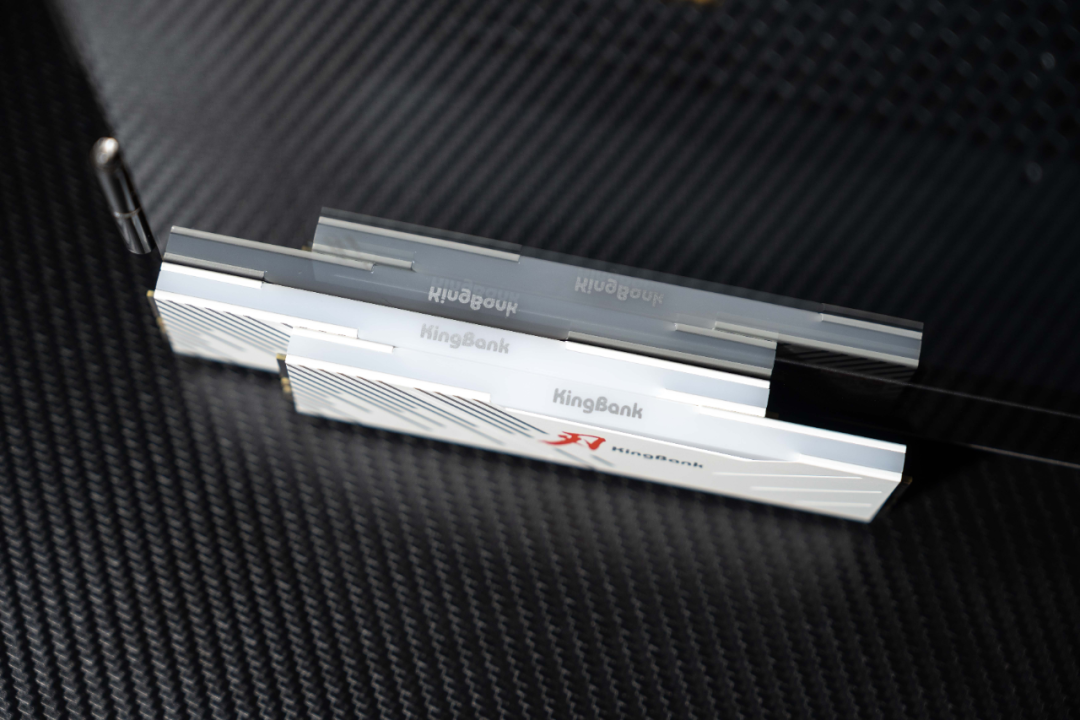 As RGB-decked modules, the most important thing is the uniformity of the lighting. Users who have purchased RGB accessories must be deeply aware of "LED dots", feeling that we really don't like seeing the exposed individual LEDs.
The KingBank SharpBlade adopts a (8×2) 16 LED dual-sided lighting design. After successful power-on, it can be seen that the light of the memory is uniform and soft, and the visual experience is very comfortable. At the same time, KingBank memory supports synchronization control of mainstream motherboard lighting effects such as Aura and Mystic Light.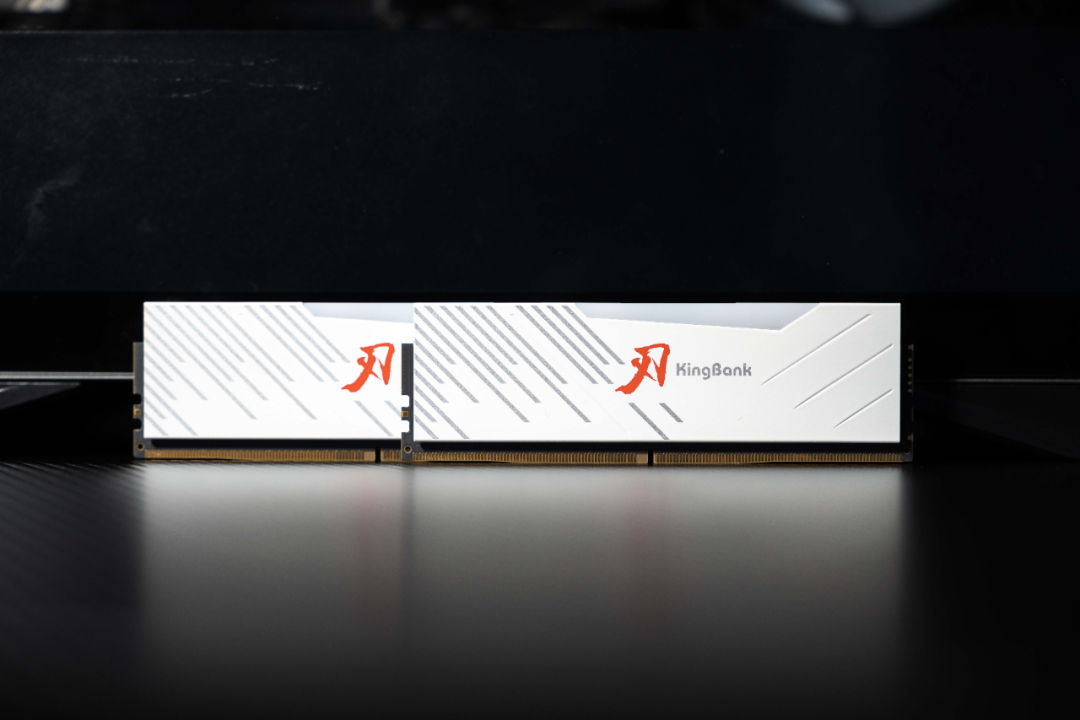 The first feeling when I first got it was that it feels solid. I also have KingBank's Silver Knight DDR5 6400. In comparison, the weight and workmanship of the SharpBlade series feel two to three times better.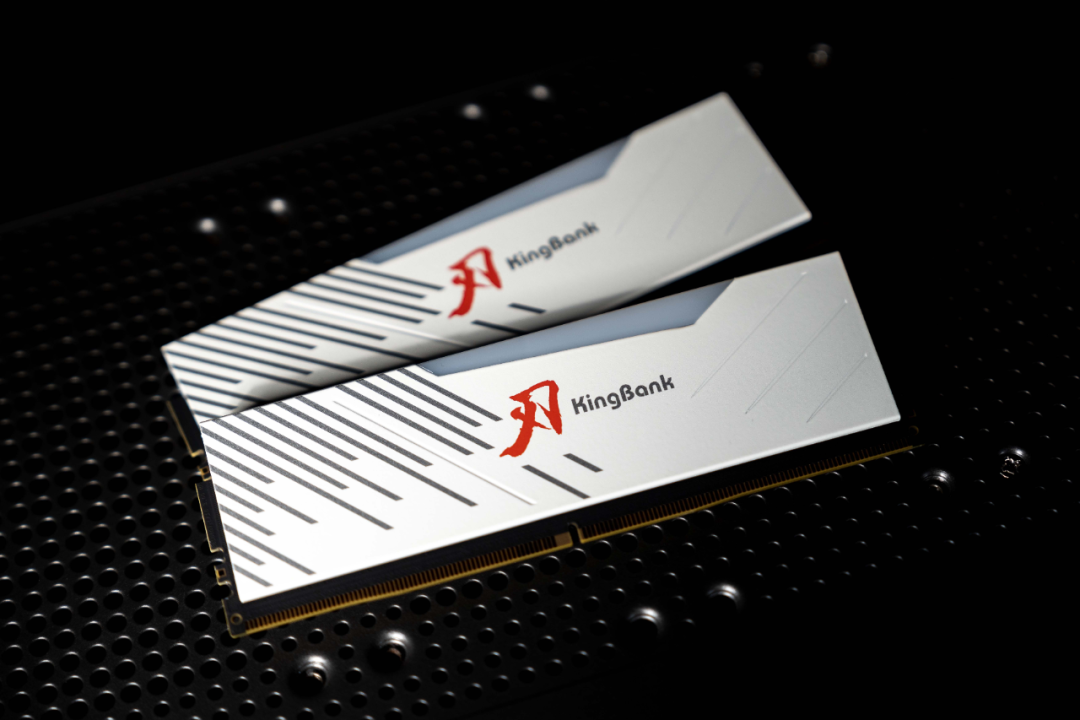 The metal armor is not just for looks, it also plays a big role in heat dissipation, especially for DDR5. The ultra-high frequency requires a lot of voltage, and heating is tremendous. Once overheated, errors, blue screens, crashes and other situations will occur.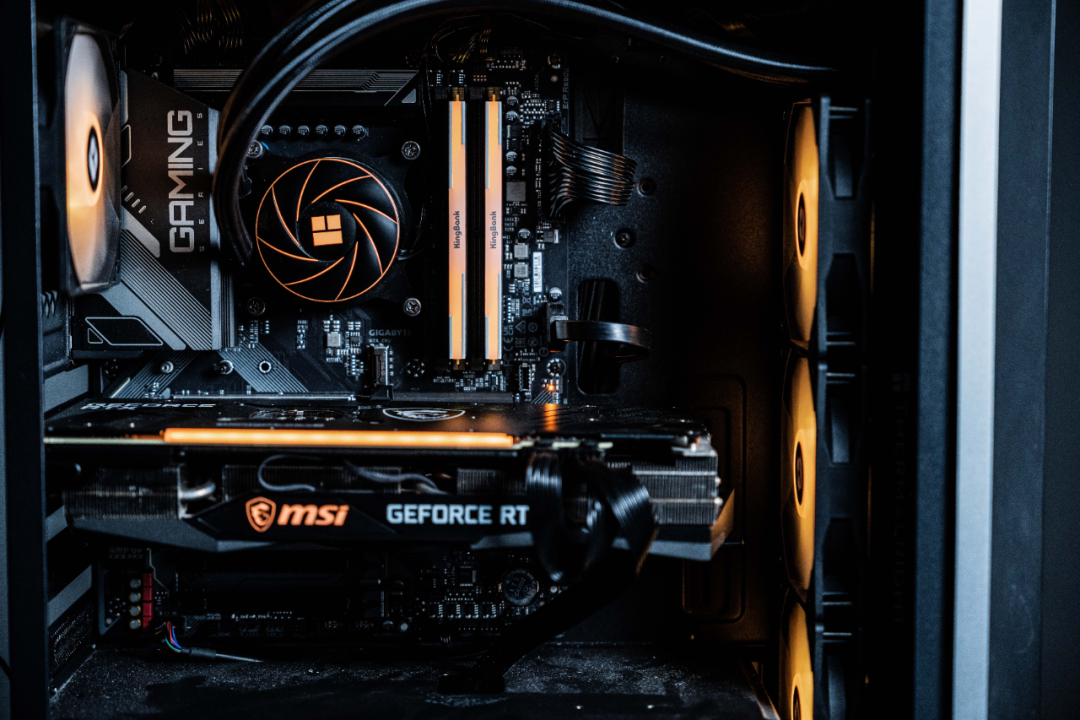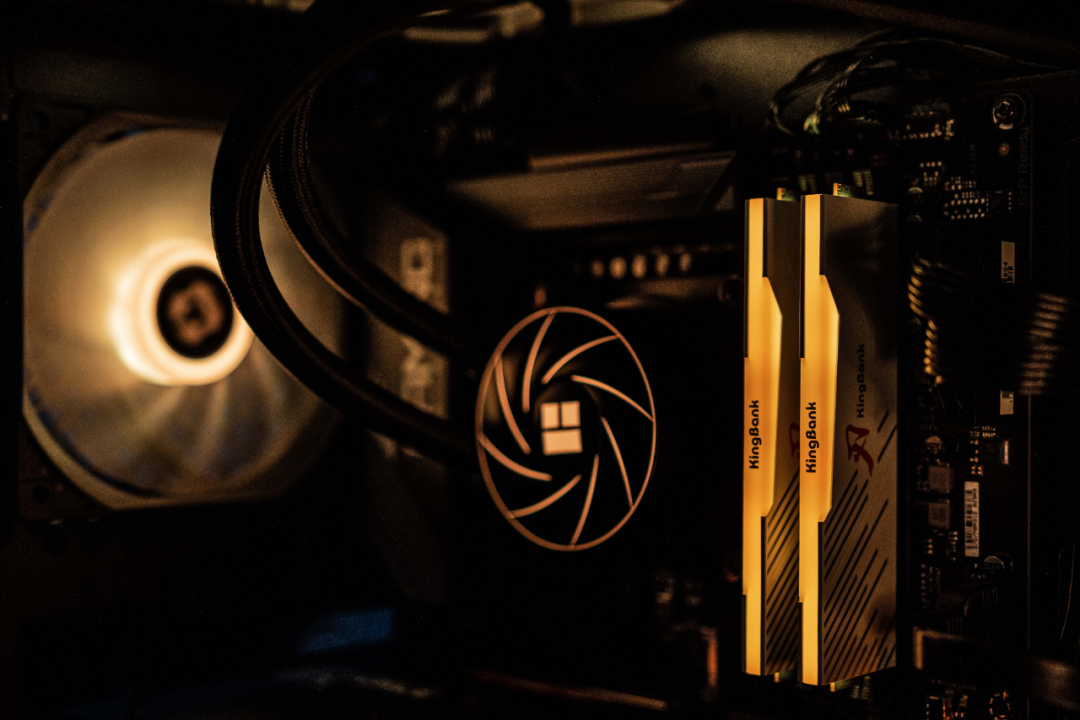 Let me show off the powered on RGB lighting. The memory has a very stylish look, and the lighting is also very uniform. My favorite is to set all lights to pure orange, which matches the style of Gigabyte motherboards very well.
Let's go ahead and test it.
Performance Testing
On the test platform:
CPU: i5 13600KF
Motherboard: Gigabyte Z790 GAMING X AX
Cooler: LEPA AE 360
Memory: KingBank SharpBlade DDR5 6400 C32
First I need to overclock the CPU according to my usual usage habits. I don't overclock the CPU itself too high for two reasons: the performance increase is not much, and the temperature and power consumption increase is quite a lot.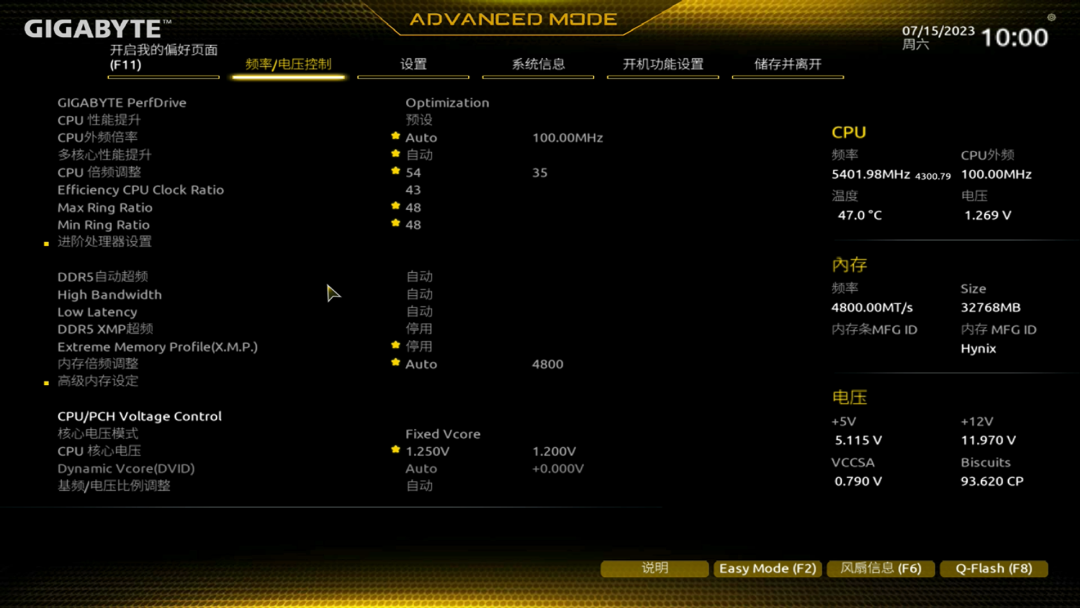 My daily usage frequency is 54P, 43E, 48 ring, 1.25V core voltage.
At this state, the full load temperature is not too high. My water cooling is not particularly excellent, it is a LEPA Aqua Elite 360.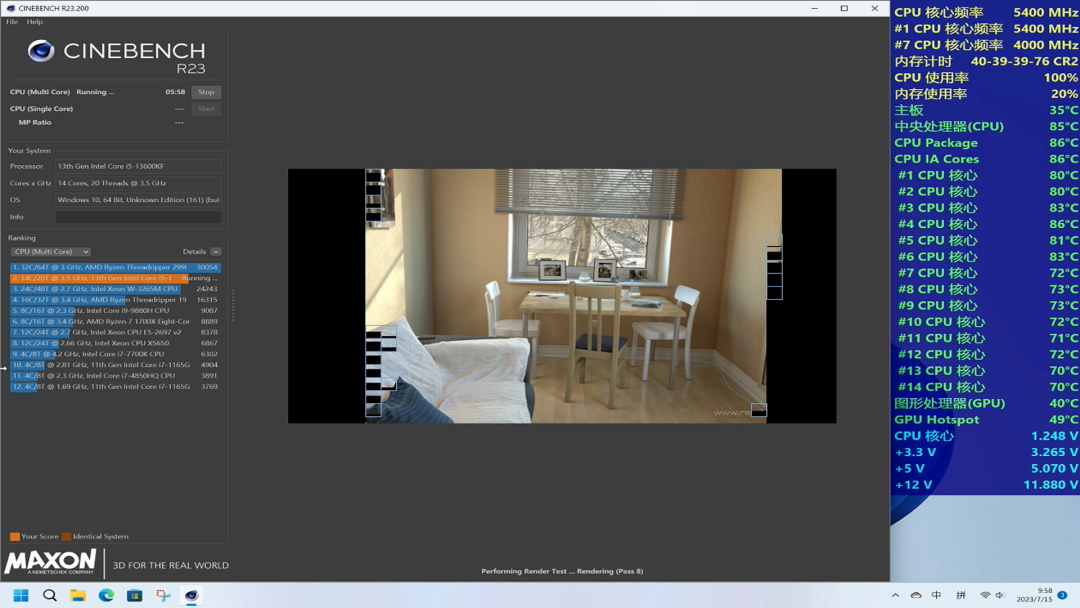 When running R23, the CPU package temperature is 86 degrees, and the P-core temperature is maintained between 80-86 degrees.
With XMP enabled, TM5 memory test also has no errors, and the memory temperature is stable at around 56 degrees without external cooling, which is decent cooling performance.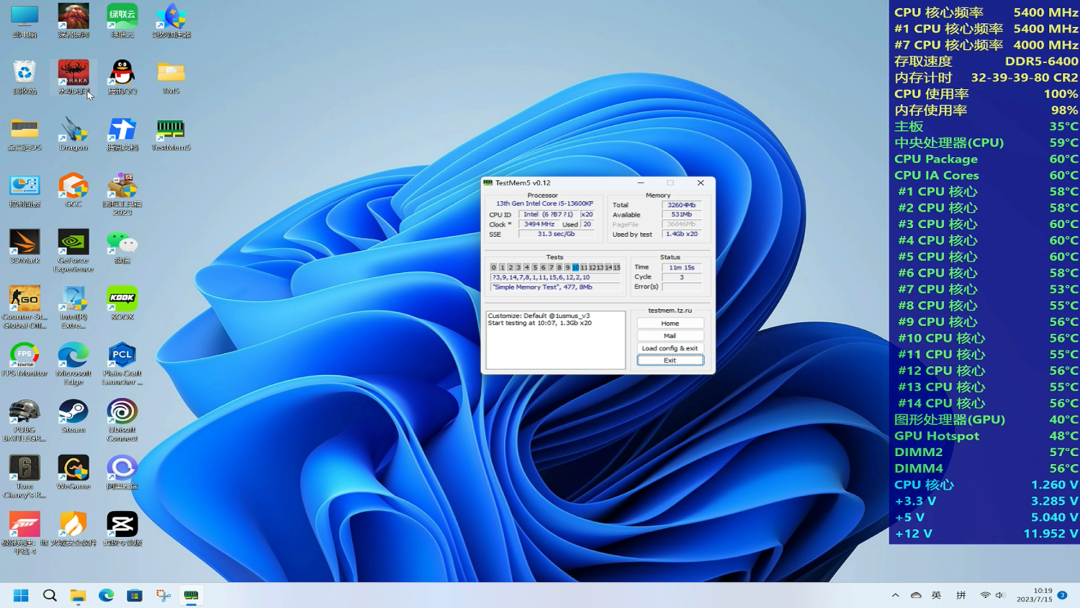 For subsequent tests I slightly increased the frequency to 56P, 48 ring, E-cores off.
I wanted to test how much performance improvement the 6400 frequency has compared to the default 4800 DDR5 frequency.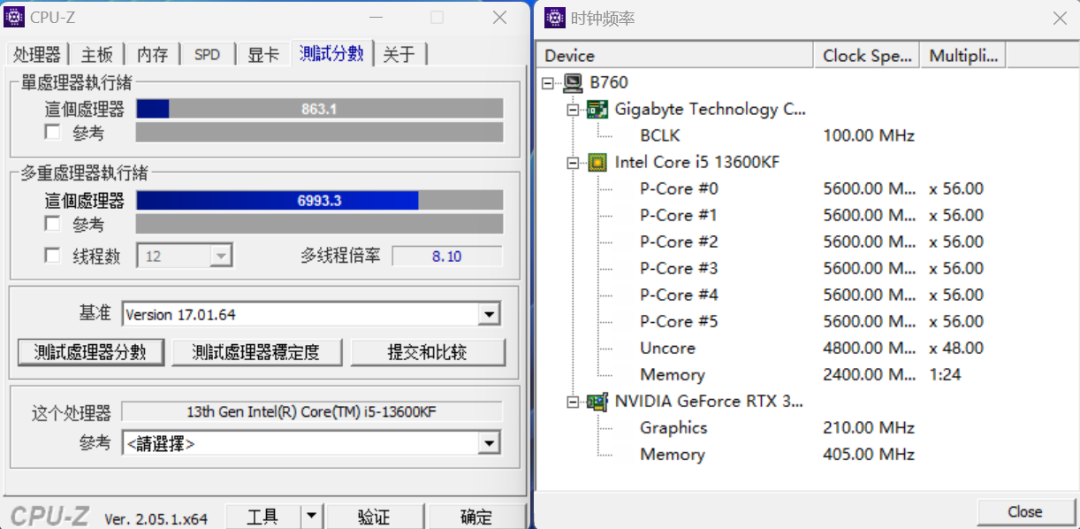 ▲ Default CPU-Z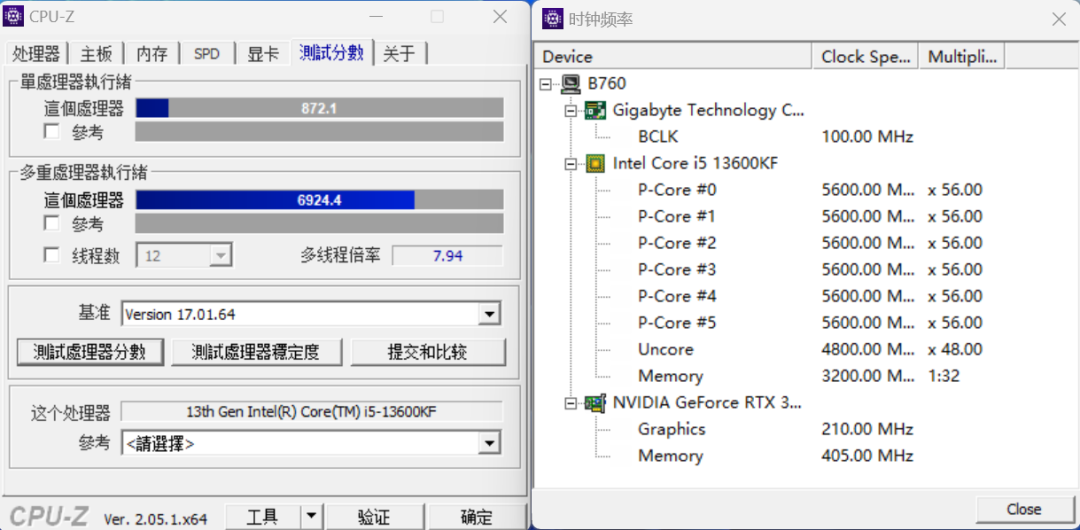 ▲ XMP 6400 CPU-Z
After enabling XMP, the CPU-Z single core score increased slightly, but the overall score was not affected by memory frequency.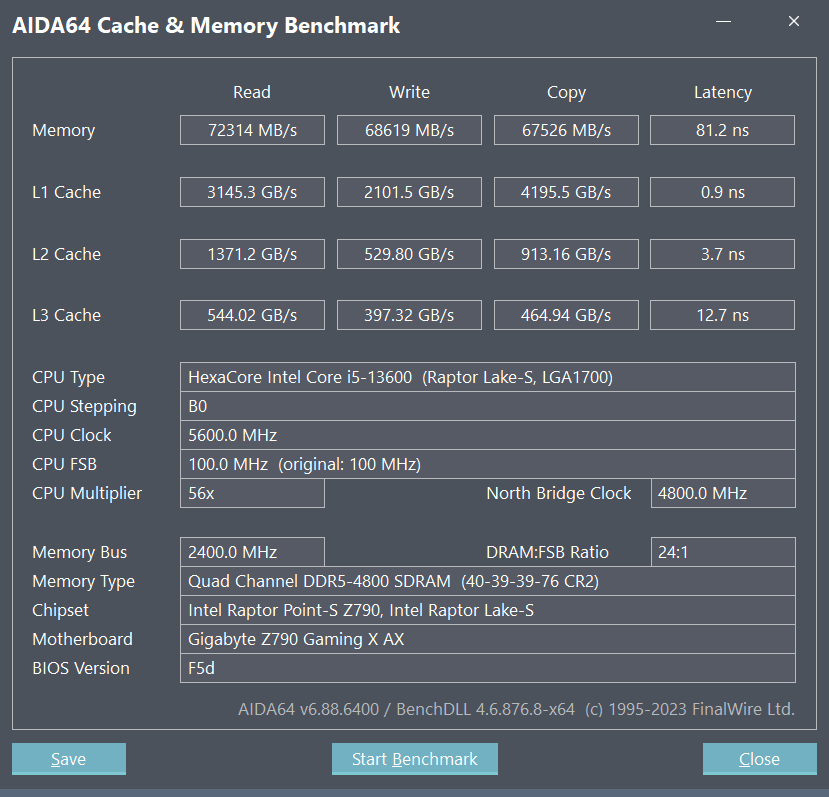 ▲ Default AIDA64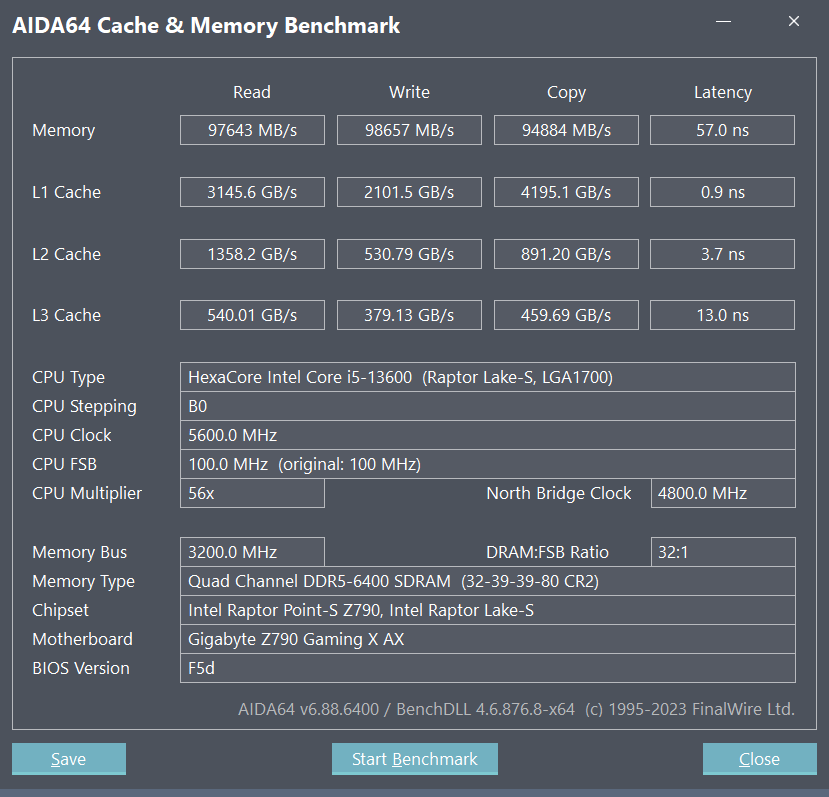 ▲ XMP 6400 AIDA64
At default frequency, read/write speeds can reach 72GB/s and 68GB/s, latency is very high at 81.2ns.
After enabling XMP 6400, read/write speeds increased to 97GB/s and 98GB/s, latency dropped to 57ns.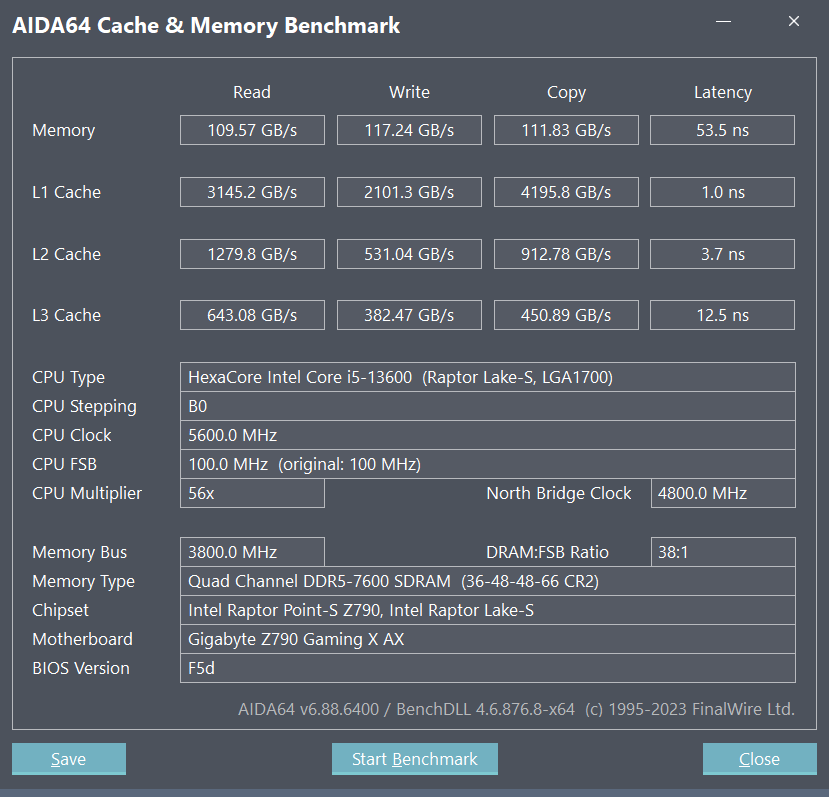 ▲ 7600 AIDA64
I slightly overclocked the memory to 7600MHz, read/write speeds reached 109.57GB/s and 117.24GB/s. The timings were relaxed a bit to CL36-48-48-66, and the latency also dropped to 53.5ns.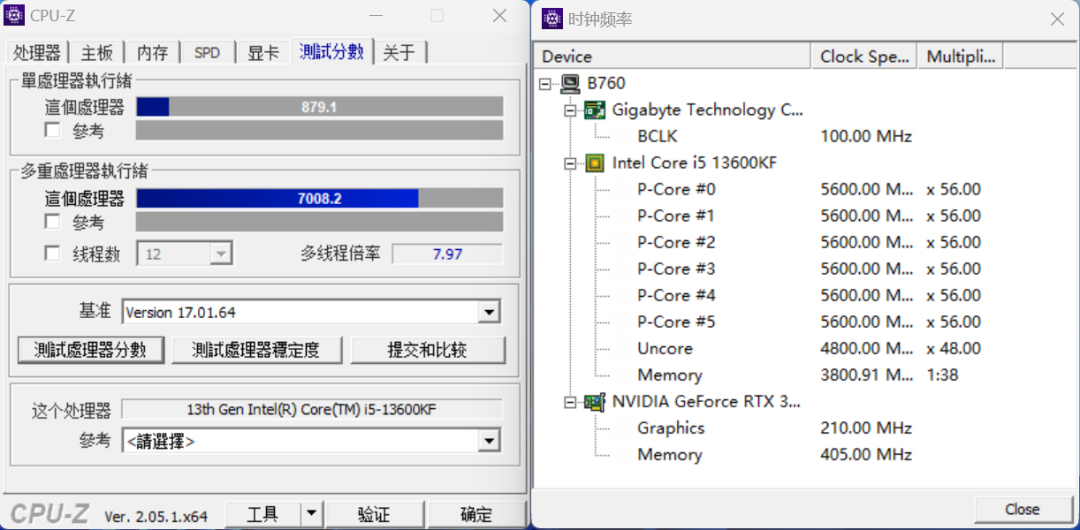 ▲ 7600 CPU-Z
After overclocking to 7600MHz, the CPU-Z score also increased slightly.
However, after overclocking to 7600, the voltage has to be increased very high. Without a cooling fan, it basically crashes when running stress tests.
With summer temperatures reaching 23-30 degrees Celsius, the temperature inside the case is quite high. For stable use, I recommend running at XMP 6400, which is a balanced state for performance, latency, and heat.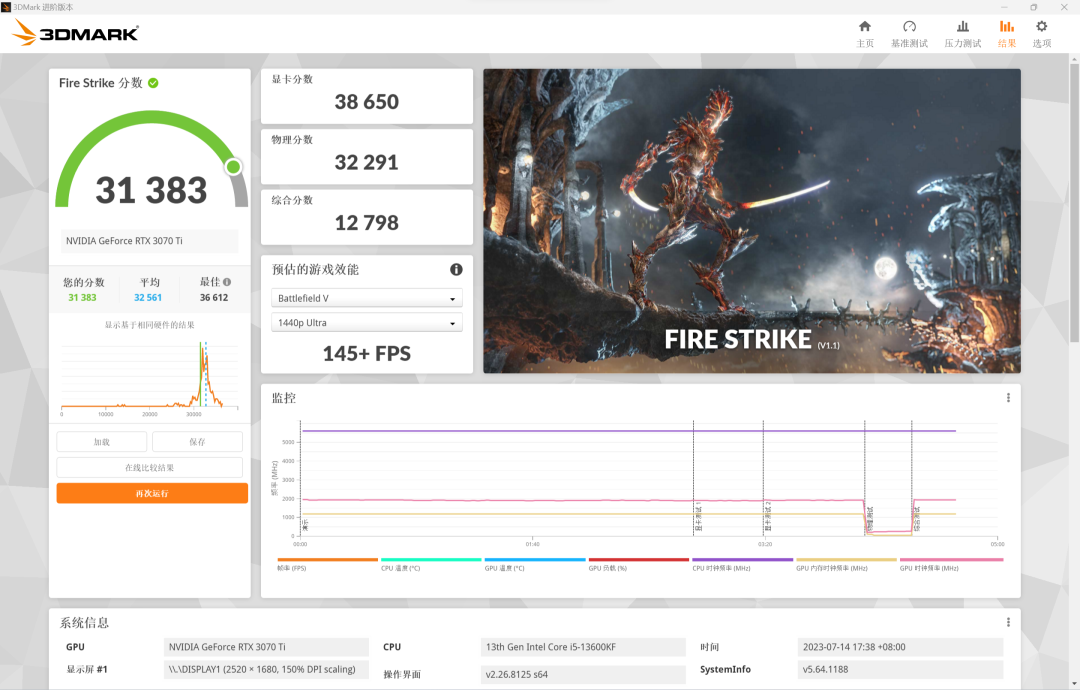 ▲ Default fire strike
▲ XMP6400 fire strike
The improvement from memory overclocking on graphics processing is also very significant, and is particularly noticeable in games. In the 3D MARK fire strike test, compared to default, XMP overclocking increased the CPU score by about 1600 points, the overall score increased by about 1600 points, and the final score increased by about 1300 points, a significant performance improvement.

▲ Default time spy

▲ XMP6400 time spy
In higher resolution DX12 gaming scenarios, memory overclocking still provides a significant boost to the CPU.

▲ Default R20

▲ XMP6400 R20
After enabling XMP overclocking, there is a slight increase in CPU score, which can be considered margin of error. Memory overclocking does not improve rendering performance much, Cinebench is not memory bandwidth sensitive.
Summary
Through this hands-on experience, KingBank SharpBlade DDR5 memory not only looks great, but performance is also quite good. Just enabling XMP can achieve excellent performance, while temperature control is decent. Plus the price is not expensive, I recommend it to mid-range configurers who want to build RGB and white themed PCs.

The original passage: https://mp.weixin.qq.com/s/8RAtztG4Qww2bJvvJ36T5A