Review: KingBank KP260 Pro SSD Revealed in Detail

Forward
It was not strange to get hangover on the mid-year shopping spree just ended late last month. Gamers harvested a bunch of new treasure gadgets which were super cheap but of high quality. And KingBank is my pick. KingBank has really cheap but fast-running PCIe4.0 SSD which is available at models of KP260, KP260 Plus and KP260 Pro. Mainly equipped with Maxio controller and YMTC ICs, the series of SSDs are tested with good results.
Results at a glance before diving into the detailed test processes.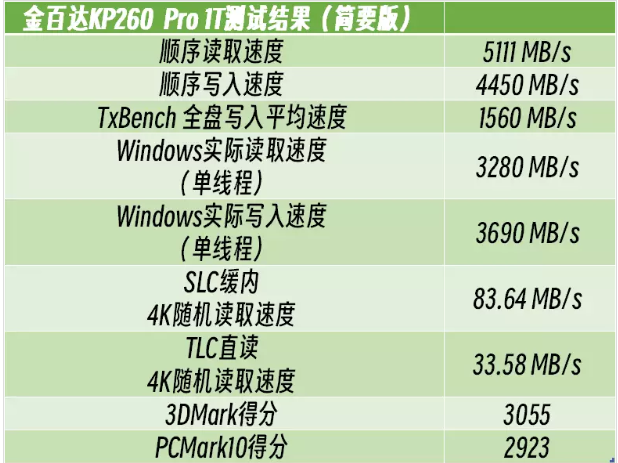 Product Analysis
Capacity and Performance
The KingBank KP260 Pro is a mid-range PCIe 4.0 NVMe M.2 SSD that was released earlier than the KP260 Plus. Similar to KingBank's own KP260 and Western Digital's SN770, it is a mid-range PCIe 4.0 SSD.
The KP260 Pro currently comes in 512GB and 1TB capacities, with the 1TB version selling for only 289 RMB on JD's official store, and even lower at around 250 RMB on PDD. I remember paying 700-800 RMB for a 1TB PCIe 4.0 SSD just last year, so SSD prices today feel almost free in comparison.
The official claimed sequential read speed is 5000MB/s and sequential write speed is 4500MB/s, which exceeds the maximum file read/write throughput supported by Windows, so there should not be a performance bottleneck. However, being labeled "Pro" while having lower performance than the Plus model feels a bit odd.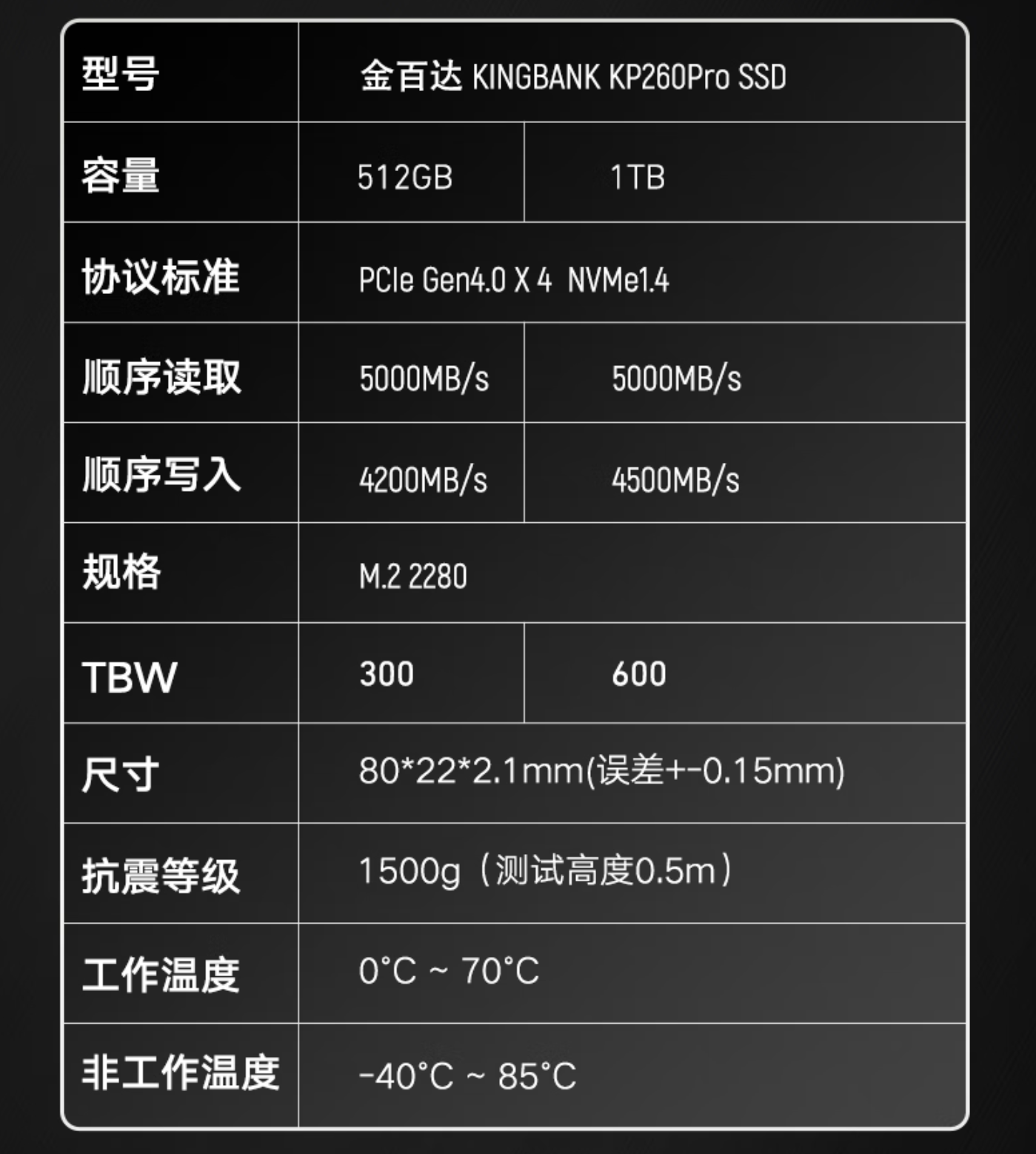 Warranty Policy
For warranty, the KP260 Pro sold on JD's official store can provide complete peace of mind, with JD's after-sales service backing it up. Those familiar know JD's after-sales is excellent.
Most consumer SSD manufacturers currently adopt a dual-standard of TBW + warranty period. As long as the written data amount is within the TBW range and within the warranty period, the SSD is eligible for full warranty service. The TBW standards for the KP260 Pro 512GB and 1TB versions are:
512GB version: 300TB 1TB version: 600TB
This is consistent with mainstream brands like Crucial, Western Digital, Samsung, etc. In reality, ordinary users rarely write over 20TB per year, so there is no need to worry in this regard.
Meanwhile, the KP260 Pro has a 3-year warranty period, and JD-sold products are backed by JD's after-sales service, with personal delivery also supported. So everyone can purchase from the cheapest vendor with peace of mind.
Controller and NAND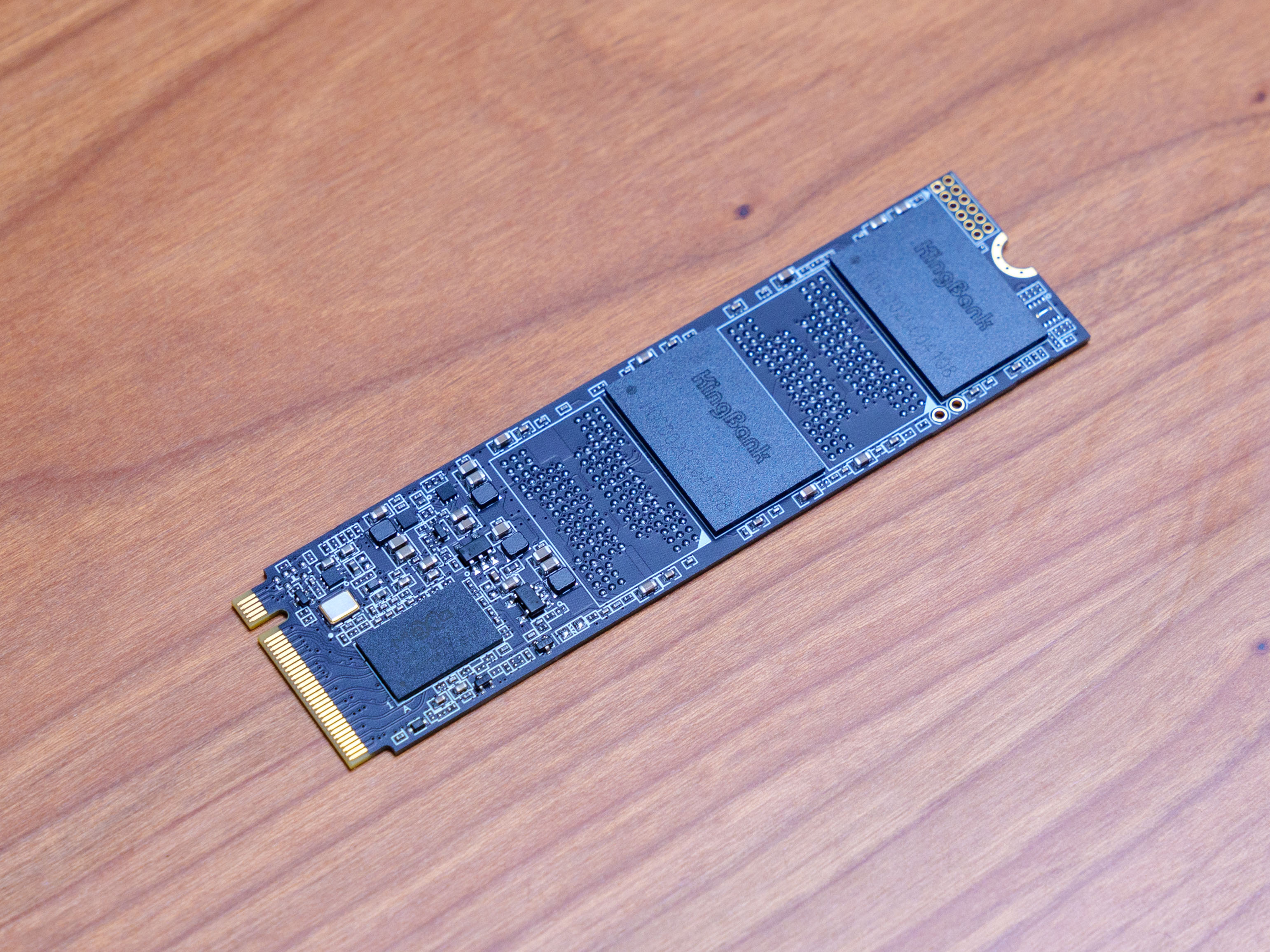 Both the KinFast KP260 Pro and KP260 Plus use the domestic UniMicron MAP1602 controller: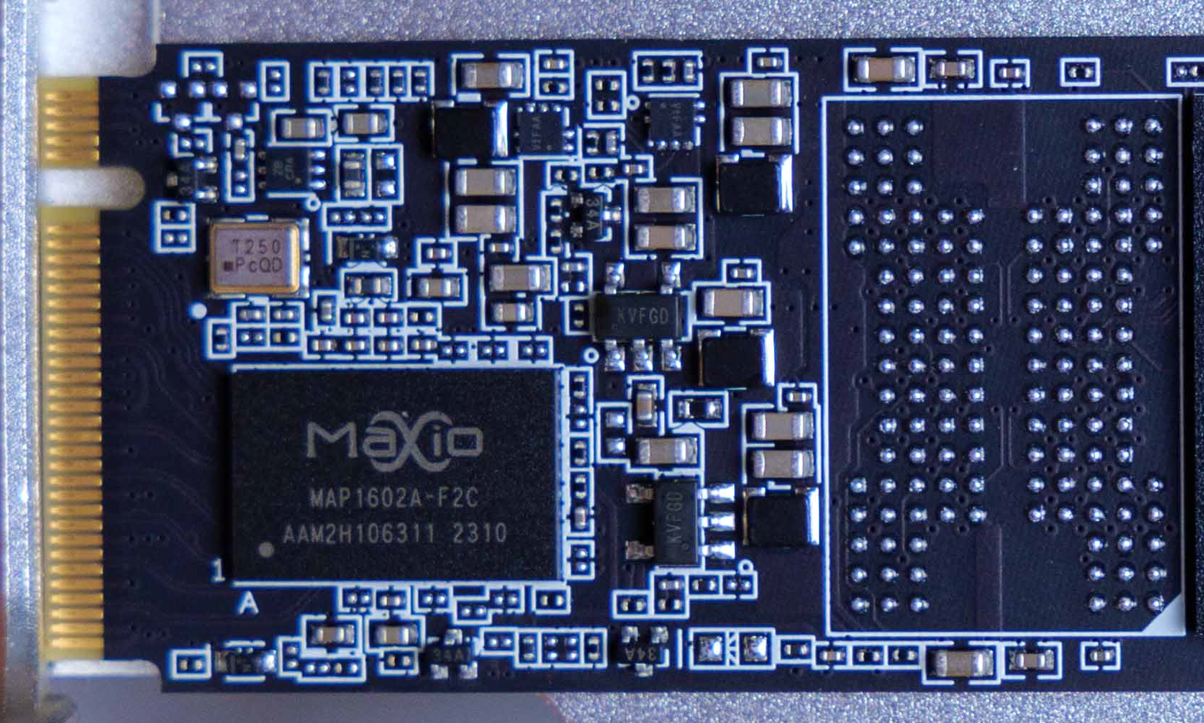 Those familiar with domestic SSDs must be tired of seeing the UniMicron MAP1602. This PCIe 4.0 controller with HMB cacheless architecture is used in many domestic SSDs. Its sequential read/write speeds can easily saturate PCIe 4.0 x4 bandwidth, with performance comparable to top foreign brands. After confirmation by many users, its stability is also very strong. I feel it can be called a domestic pride, just like ChangXin X3-9070 232L NAND.

However, unlike the KP260 Plus which uses ChangXin X3-9070 232L NAND, the KP260 Pro uses 176-layer TLC NAND from Hynix. This results in slightly lower read/write performance compared to the Max speed KP260 Plus.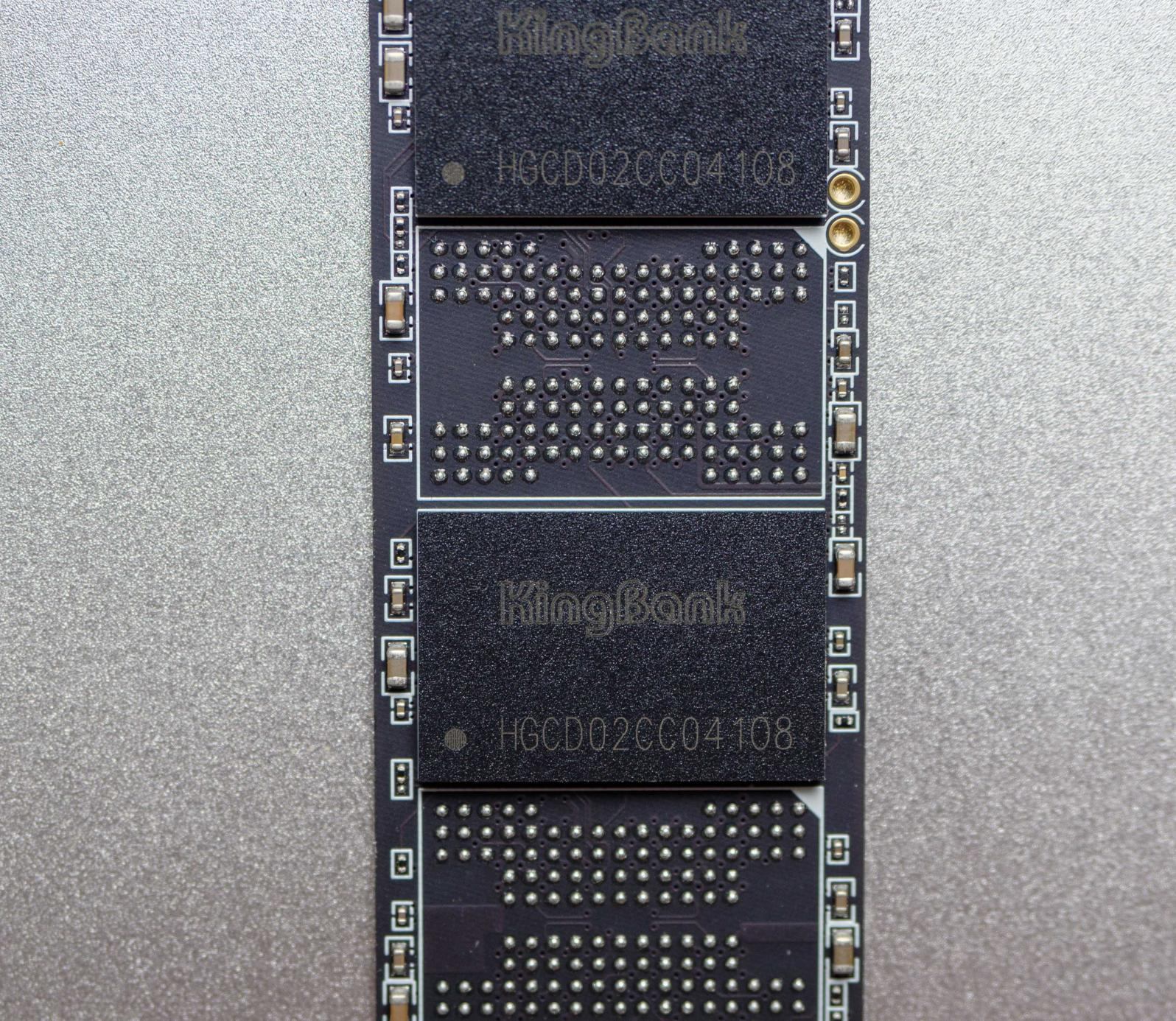 The NAND information can be further confirmed via the flash ID. With the disappearance of SLC and MLC NAND from the consumer market, having TLC NAND available for DIY is sufficient now. Thanks to technological advances, TLC NAND no longer has any weaknesses in performance or endurance.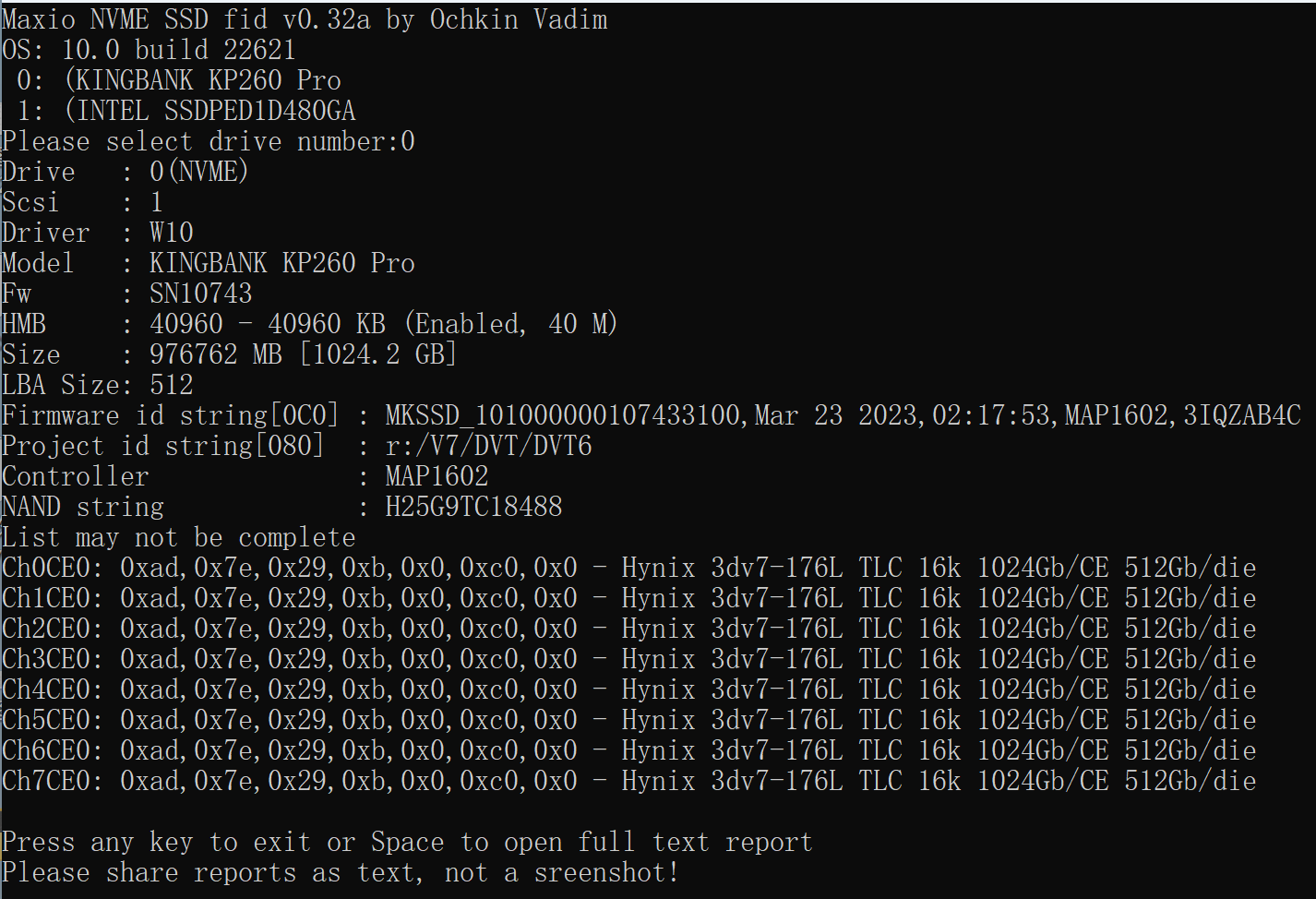 Unboxing
After collecting three KinFast PCIe 4.0 SSDs, I found their packaging boxes seem to be universal - very simple paper boxes, with different models distinguished by stickers. I've always felt elaborate packaging is unnecessary, the product quality is what matters. Manufacturers should cut costs there and pass savings to consumers, a win-win for all.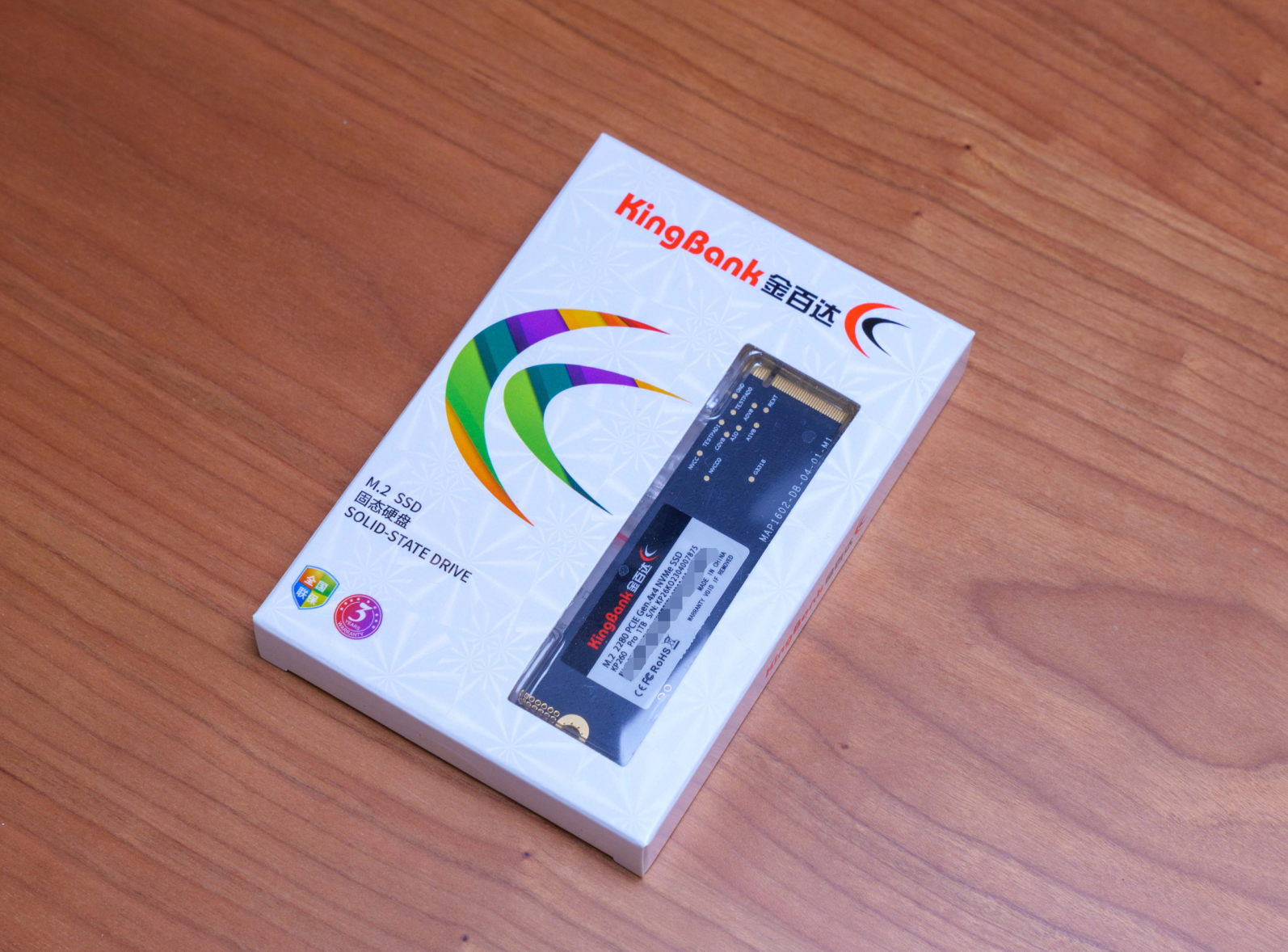 The KP260 Pro is a standard 2280 size NVMe M.2 SSD, with single-sided NAND placement - the NAND, controller and other components are all on one side, very friendly for tight installation spaces. The double-sided SSDs I got like the Crucial TiPro7000 won't fit into some laptops and enclosures.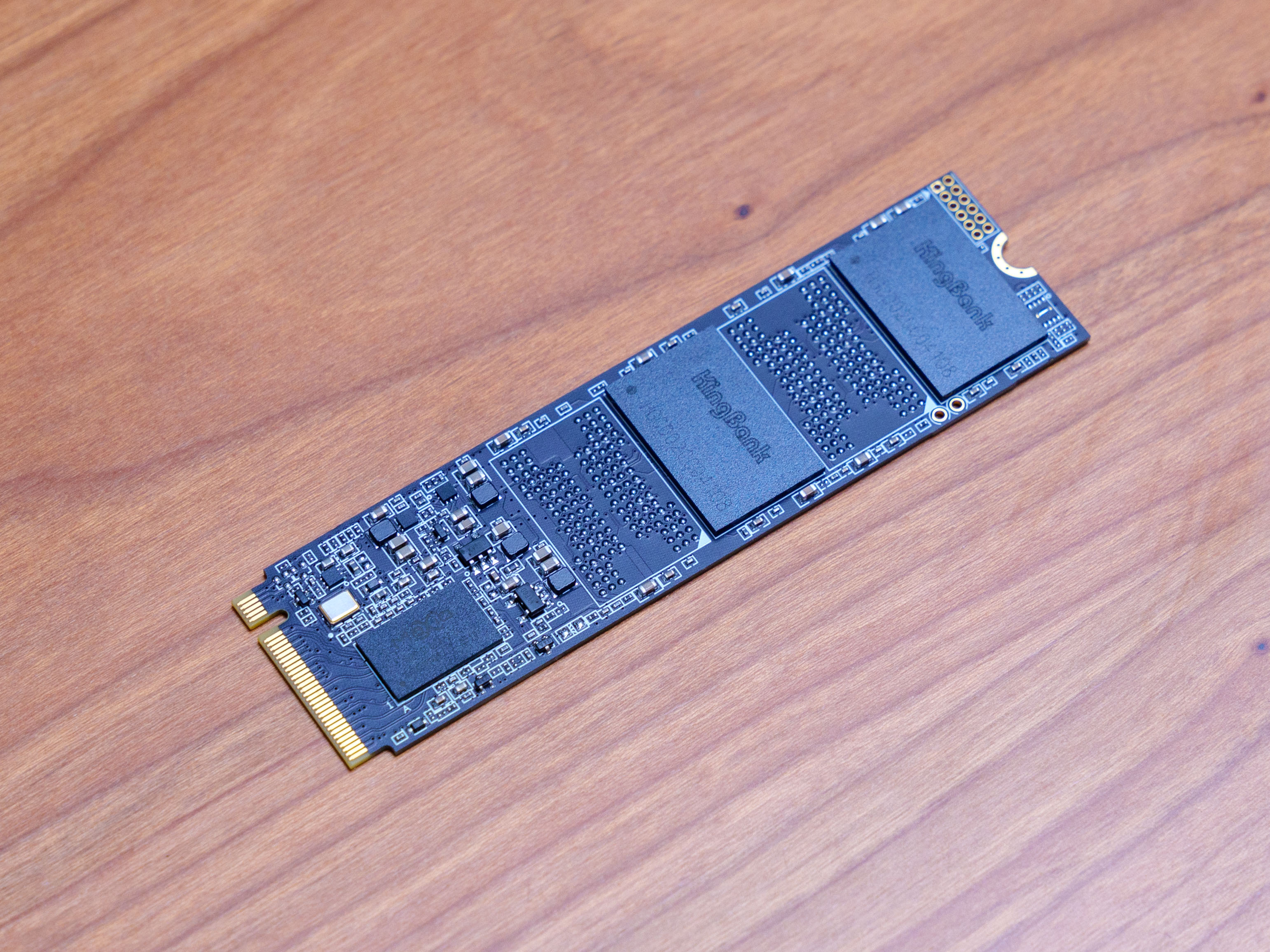 KinFast SSDs seem to have the logo sticker on the back rather than on the NAND/controller.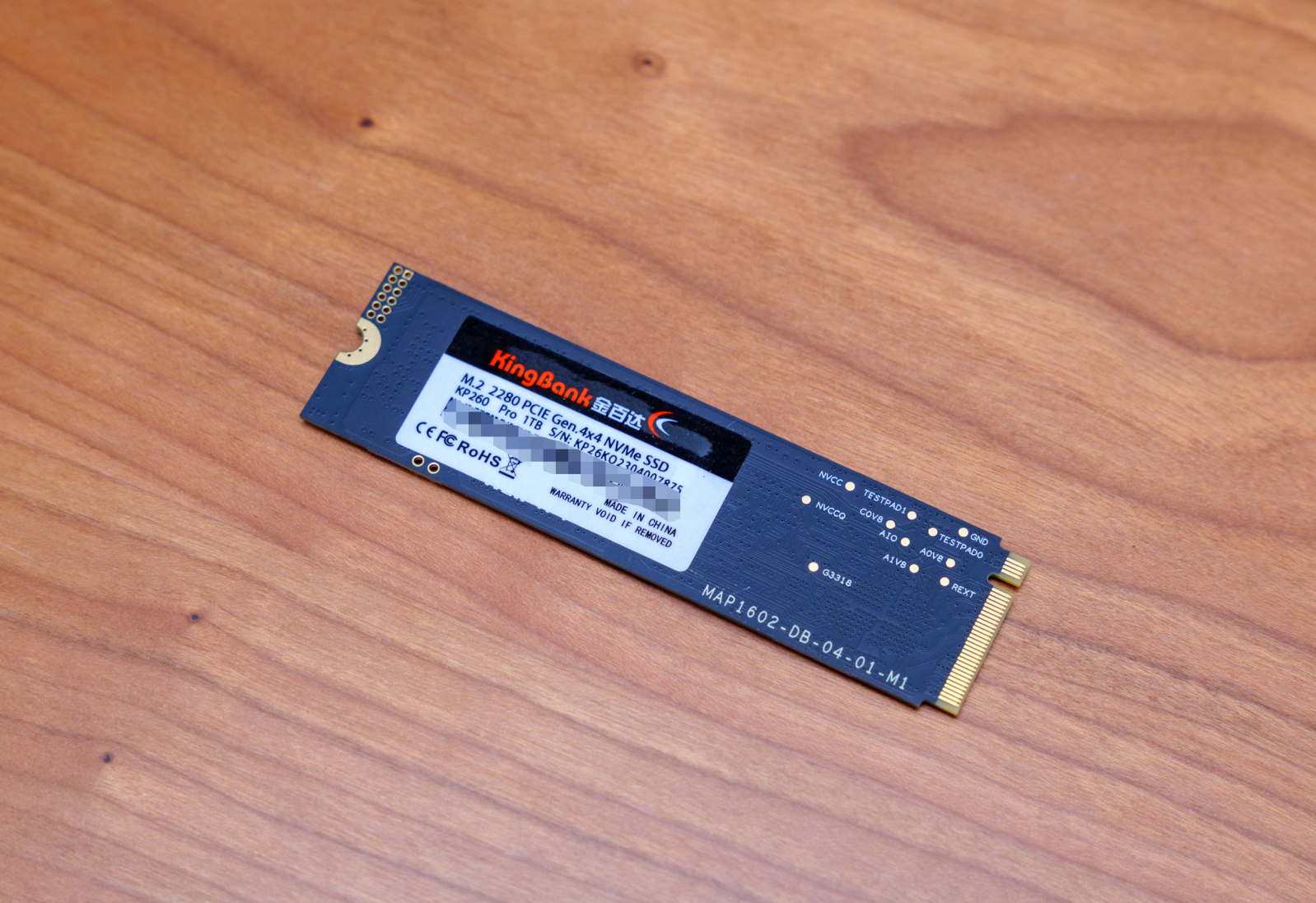 This allows direct contact between the heatsink thermal pad and the components for better cooling and lower operating temperatures. The exposed chips also let us clearly see the NAND and controller models, without concerns of warranty voiding from removing stickers.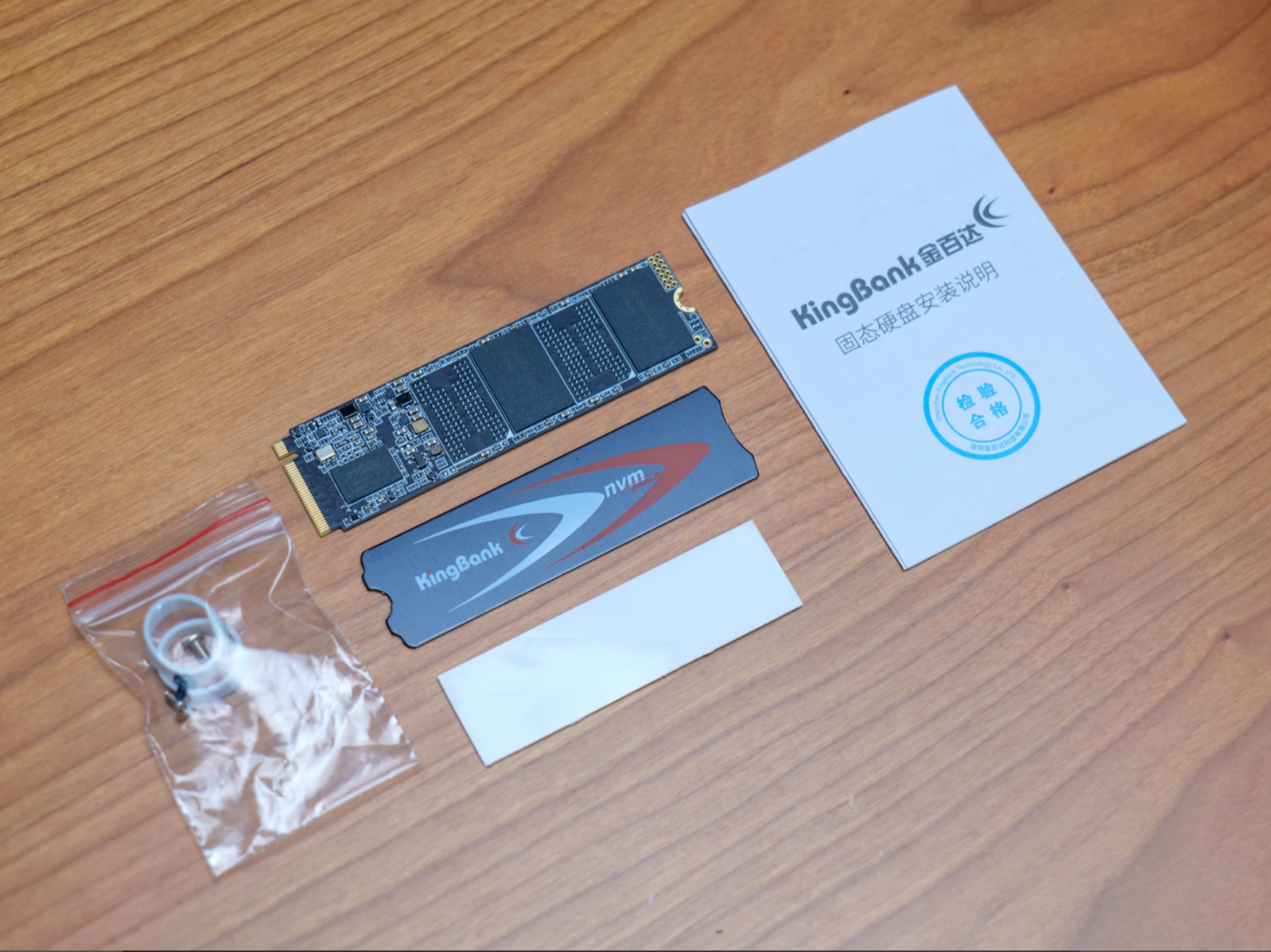 Checking SMART info in CrystalDiskInfo shows a brand new drive with 0 data read/written and power-on time. Firmware version is SN10743, supporting NVMe 2.0 protocol.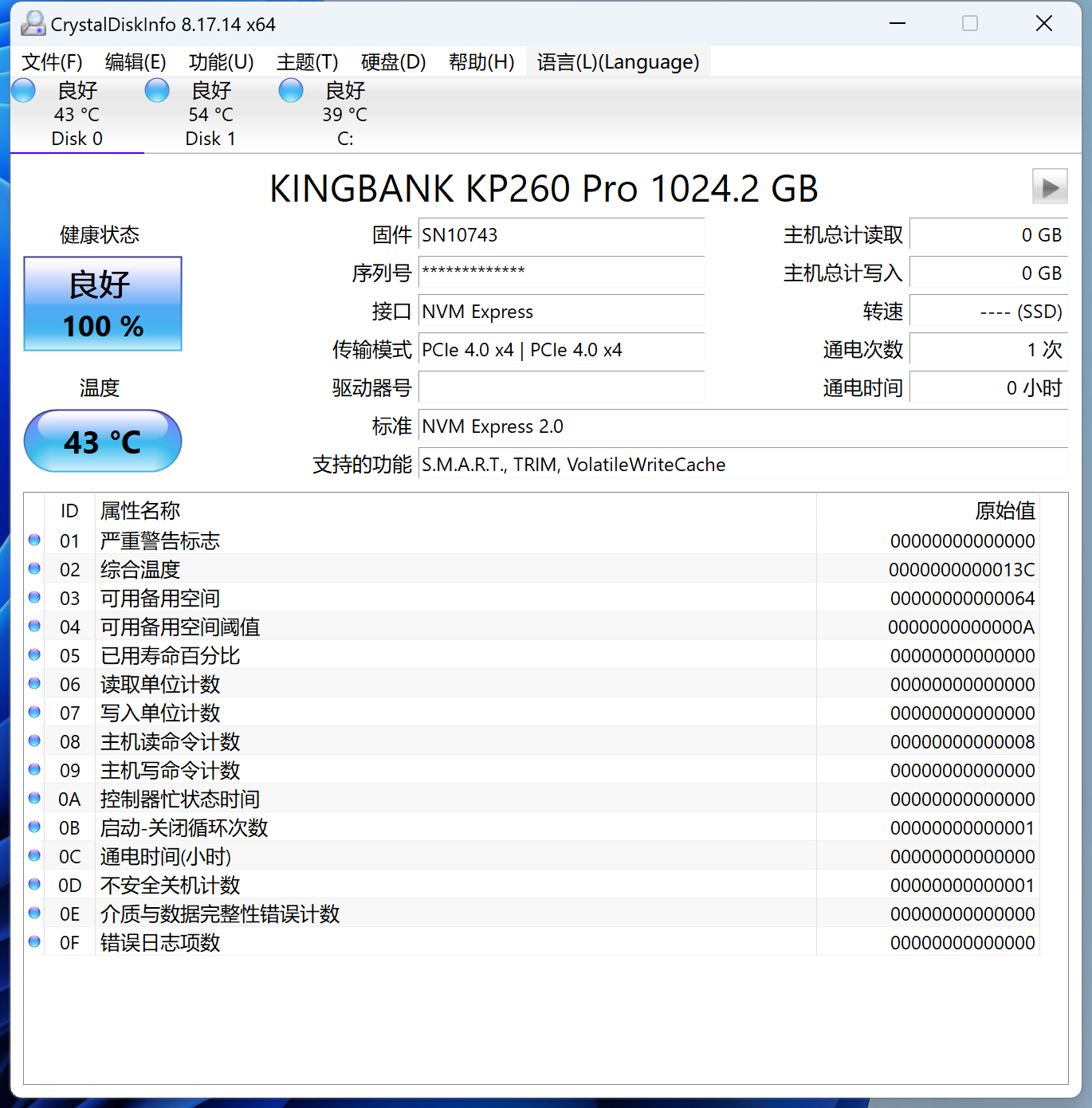 In Windows Disk Management, the capacity is 953.85GB. The difference from 1TB is due to different binary vs decimal calculations.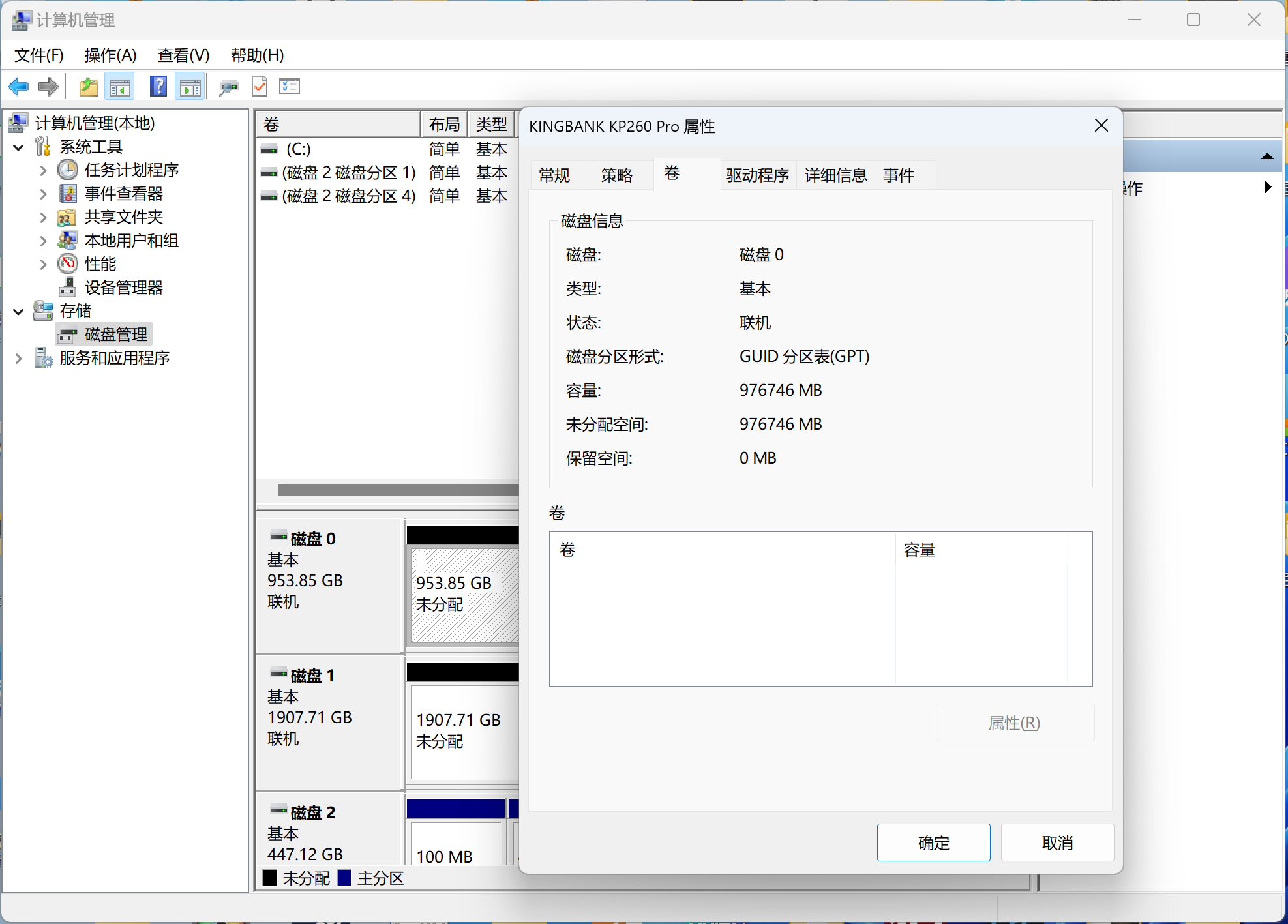 Test Platform
CPU: Intel i5-13600K
Motherboard: CVN Z790D5 GAMING FROZEN
Memory: Lexar DDR5-6400 16GB x2
SSD: Intel Optane 900P 480GB (OS drive), Crucial TiPlus7100 2TB (Data drive)
GPU: Intel UHD770
OS: Windows 11 Professional
Note: To avoid performance loss from chipset routing, the KP260 Pro is installed in a CPU direct M.2 slot.
Basic Benchmarks
First we will benchmark the KP260 Pro in empty state using common tools to test read/write performance. As there are rumors that HMB cacheless SSDs suffer performance degradation at high capacity usage, we will also fill the drive to 95% with random data to observe the performance behavior.
CrystalDiskMark

In empty state, the KP260 Pro has sequential read speed of 5111MB/s and sequential write speed of 4450MB/s. Considering margin of error, this matches the claimed performance.
The SLC cached 4K random read speed reaches 795.7K IOPS, and 4K random write speed reaches 788.6K IOPS. This is close to enterprise-grade performance, very good.
For 4K Q1T1 random performance most relevant to real world use and system smoothness, the read speed is 83.6MB/s, almost catching up to current flagship PCIe 4.0 SSDs, also very excellent.

At 95% filled state, the sequential read speed is 5093MB/s and sequential write is 4437MB/s, very close to empty state performance without noticeable degradation. There are no signs of SLC cache failure even near full capacity.
The deep queue random read speed drops slightly to 787K IOPS. However, the random write speed drops to 454.7K IOPS, indicating some performance pressure for the HMB cacheless drive at high capacity usage.
Fortunately deep queue random IO is rarely encountered by ordinary users. The most used 4K Q1T1 random read maintains at 82.8MB/s, almost no drop, still great performance.
AS SSD Benchmark
CrystalDiskMark shows maximum scores from multiple runs, while AS SSD Benchmark uses slightly different algorithms and displays average scores in base 10. So AS SSD results are normally lower than CrystalDiskMark, but the scoring system allows easier comparison, hence still very useful.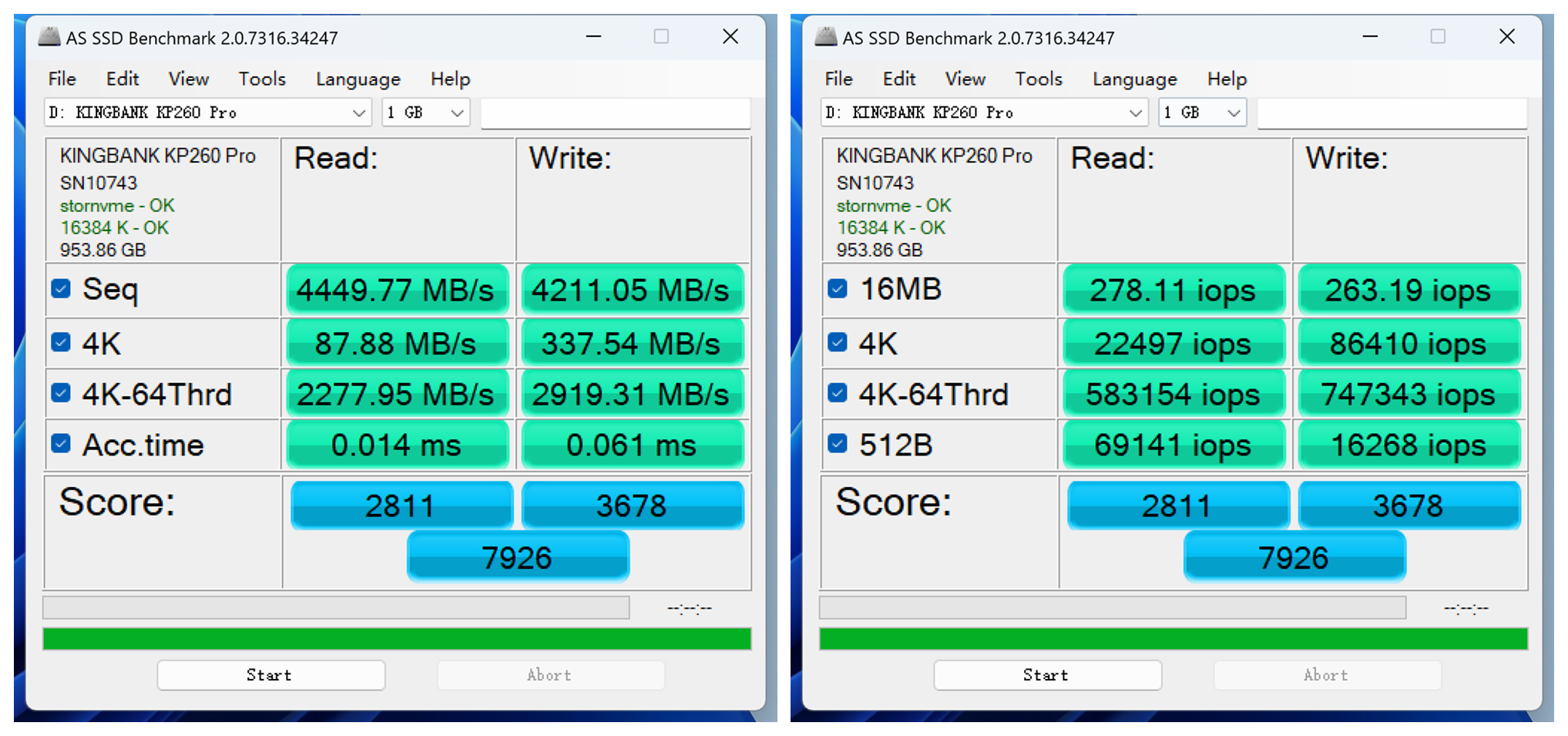 In empty state, the KP260 Pro has 4450MB/s sequential read, 4211MB/s sequential write, and 87.88MB/s 4K Q1T1 read, even better than CrystalDiskMark.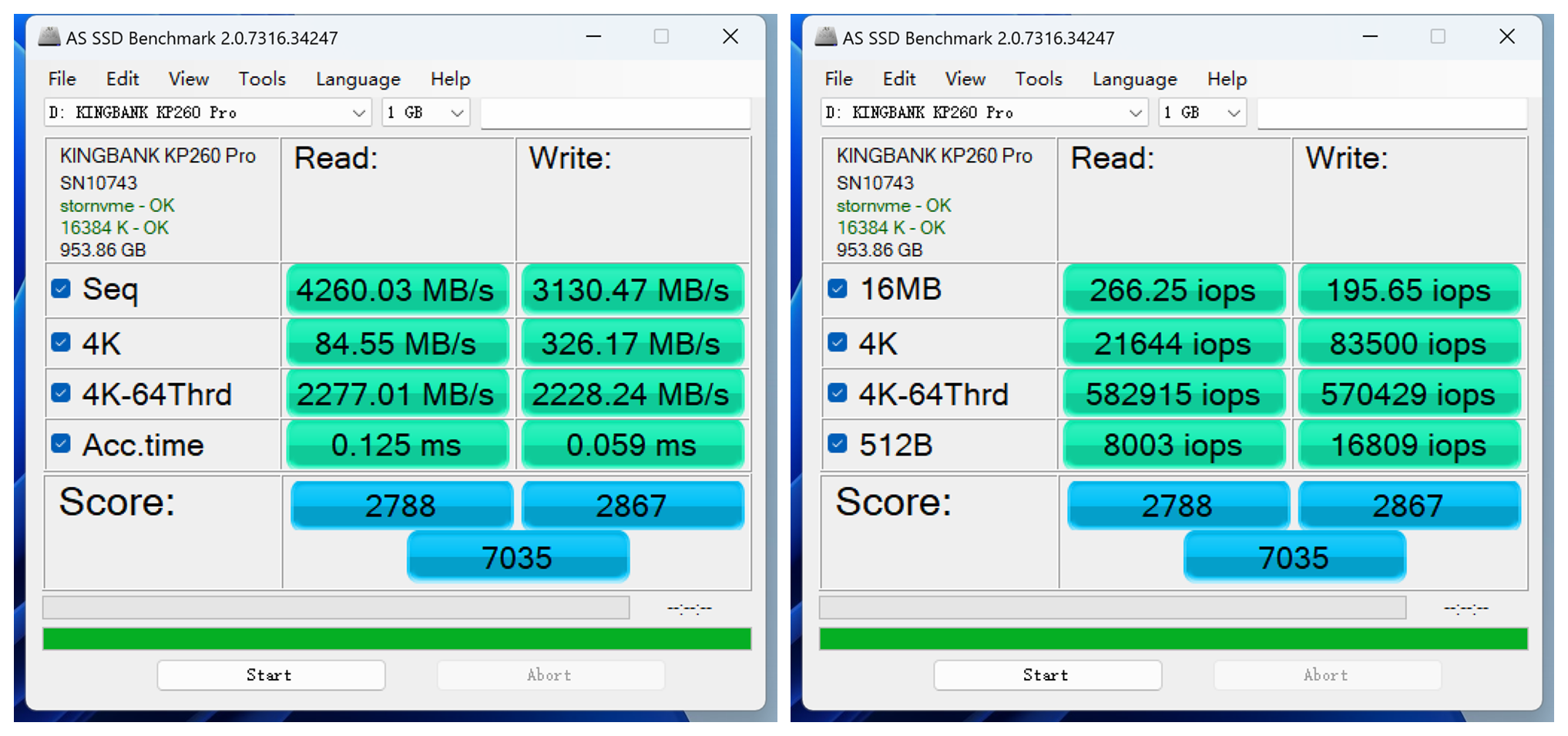 At 95% filled state, sequential read is 4260MB/S, sequential write is 3130MB/s, and 4K Q1T1 read remains at 84.55MB/s, with a score of 7035, apart from the sequential write drop, very minor differences from empty state.
ATTO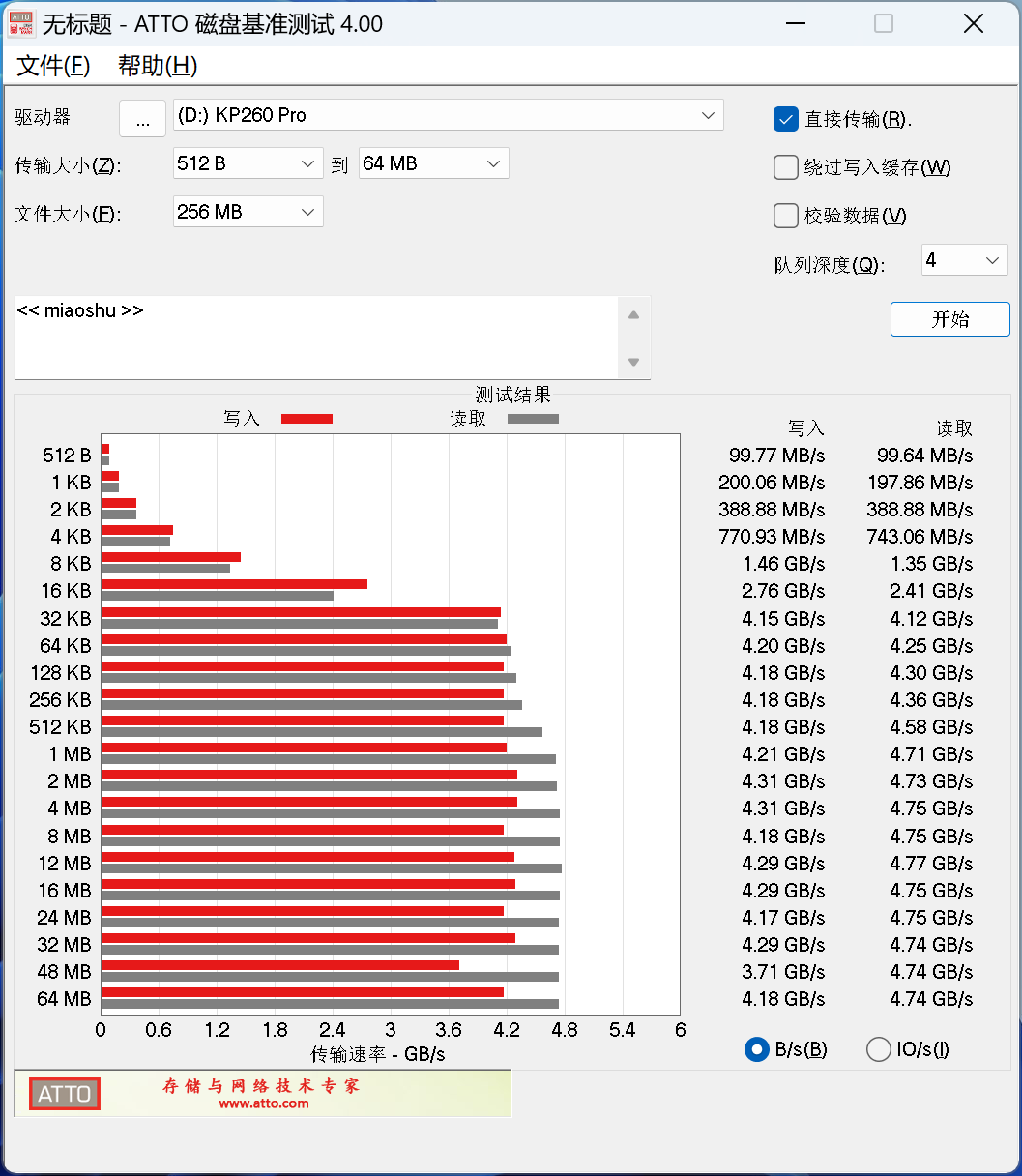 ATTO disk benchmark mainly checks performance with small files. We can see the KP260 Pro maintains sequential read/write performance once the file size is 32KB and above.
Real World Performance
PCMark10
SSD performance as a boot drive is hard to quantify, since smoothness is quite subjective. So we use PCMark10 system drive benchmark to evaluate the KP260 Pro's performance as a system drive.
PCMark 10 Storage Benchmark consists of four storage tests derived from real-world traces of popular applications and common tasks. It fully and realistically reflects the performance of modern storage devices including Windows 10 boot, game/app launches, copying large and small files, Office and Adobe app operations, etc.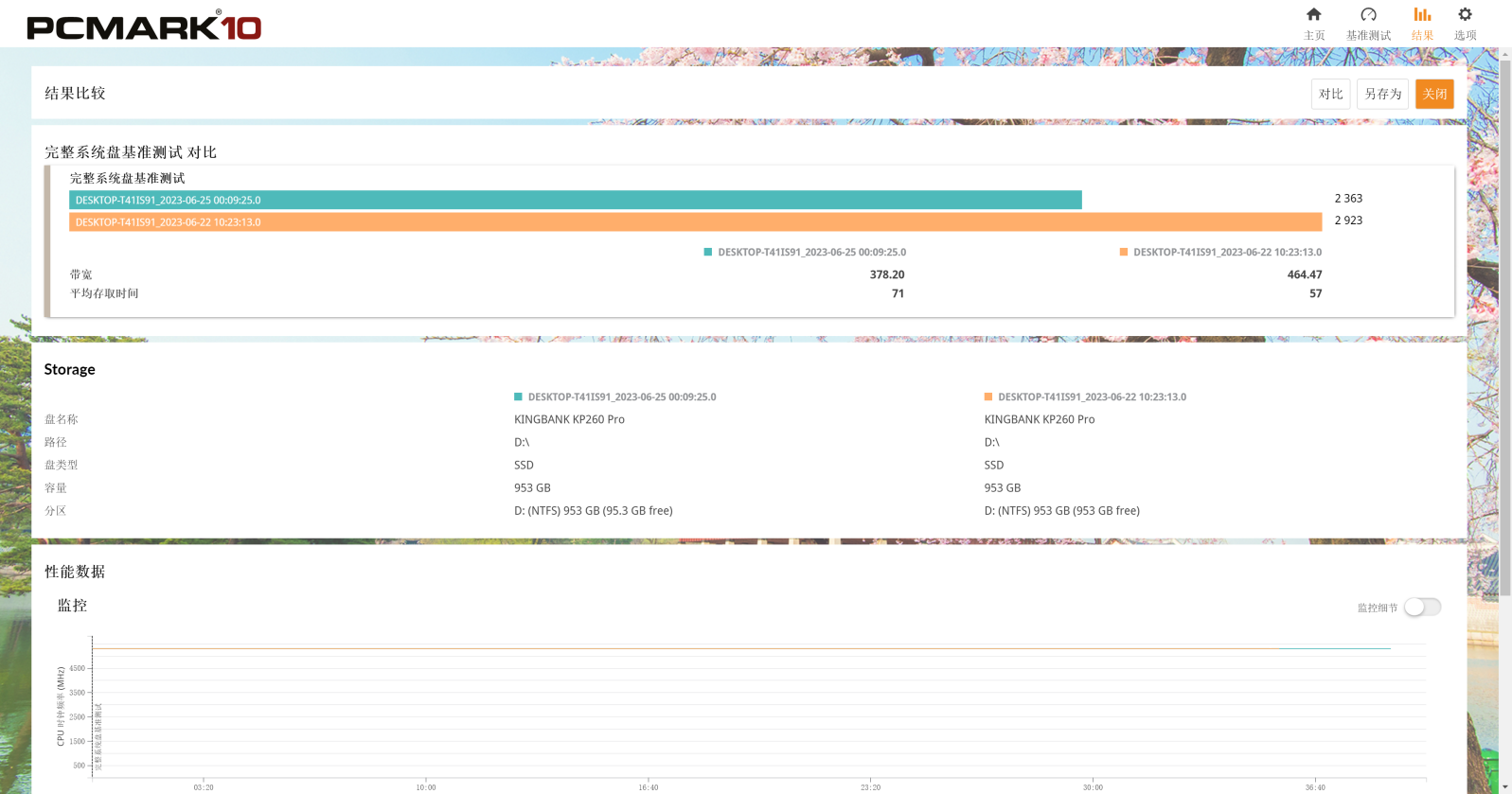 We compare empty vs 95% filled state scores to easily observe the differences:
Empty state score is 2973, average bandwidth 464.47MB/s, average access time 57μs.
95% filled state score is 2363, average bandwidth 378.2MB/s, average access time 71μs.
3DMark
If PCMark10 evaluates overall system drive performance, 3DMark's storage benchmark focuses specifically on game drive usage, more relevant for gamers.

The KP260 Pro has 523.37MB/s average bandwidth and score of 3055 in empty state, see chart for details.

At 95% filled state, the score drops to 2274 and average bandwidth to 389.69MB/s.
Game Loading Time
Newer large games usually optimize the loading process, no longer purely dependent on SSD 4K random read unlike commonly imagined. With optimization, loading files becomes more sequential.
If used just for game storage, the differences between cached SSD, cacheless SSD, and even Optane are not very large.
To verify this, we test the Final Fantasy XIV game benchmark on the KP260 Pro in both empty and 95% filled states. The drive is erased before each run to exclude SLC cache effects.

The FFXIV benchmark goes through 5 scenes and outputs loading times:

We can see even with 95% capacity filled, game loading times are barely impacted on the KP260 Pro, sometimes even faster than empty state. Most people probably won't notice the 1-2 second differences. Gamers can confidently choose HMB cacheless SSDs as extremely cost-effective game drives.
Advanced Benchmarks
The above are basic benchmarks running within the SLC cache, only showing the SSD's best-case performance. To reveal the full performance picture, we need advanced testing beyond SLC cache effects.
1.Real world read/write speed limit on Windows
First, let's verify that on Windows, the sequential read/write speed limit for large files is 4GB/s, constrained by Windows' file resource management.
Unless using specialized software like FastCopy, the real world speed will be limited regardless of PCIe 4.0 or PCIe 5.0 SSDs. This is why mid-range PCIe 4.0 drives like the KP260 Pro and WD SN770 are good enough.
For example, copying a large file from the KP260 Pro to TiPlus7100, the maximum read speed is 3.4GB/s in Windows whether single or dual threaded:


And pasting from TiPlus7100 to KP260 Pro, the maximum write speed is 3.7GB/s:

2.SLC

Cache Analysis

Full drive read/write testing can clearly show an SSD's SLC caching behavior and native performance. Here we did sequential writes on the raw KP260 Pro, averaging 1560MB/s, and generated a visual chart:

We can see with empty SLC cache, the write speed stays between 4000-4500MB/s.

After SLC cache exhaustion, the native TLC write speed levels out around 2000MB/s, with some minor fluctuations but very good native speed.
Near 720GB, it enters the slower garbage collection stage as the controller starts reclaiming written SLC space while still writing data. The speed drops as expected here. But the KP260 Pro still maintains ~700MB/s writes during GC, very good.

Looking at the GC curve fluctuations, experienced readers may find it very similar to testing the Lexar ARES SSD previously. Near the end, large fluctuations occur as the controller finishes reclaiming SLC space and tries to aggressively boost the speed to second stage TLC levels, squeezing more performance.

This tuning style differs from other SSDs using the MAP1602 controller, more aggressive optimization.
In contrast, the Crucial TiPlus7100 as a benchmark domestic SSD just shows a straight line in GC stage:

Doing full drive sequential writes in Windows shows similar 3-stage behavior:

The KP260 Pro's full drive raw sequential read chart is below. Since sequential read is unaffected by SLC caching, it maintains 4000-4500MB/s throughput:

The above tests are with empty SSD state. As capacity fills over time, how will the SLC cache behave?
We tested the SLC cache size at 50%, 60%, 70%, 80%, 90%, 95% filled states, with results below:

We can see the SLC cache size gradually reduces as fill percentage increases, but still ample for most users. Large sequential writes are rare for ordinary usage, so the high SLC write speed should be available most of the time.
At 95% filled state, using HD Tune for full drive writes gives:

At 95% filled, the KP260 Pro still has 26GB of working SLC cache, no failure.
Sequential read remains ~4000MB/s, while SLC write fluctuates more but still ~4000MB/s, very strong performance.
3.Native 4K Random Read
Apart from sequential performance, 4K random read/write with small files is more important for real world smoothness.
In researching for this review, I found most articles rely on software benchmarks like CrystalDiskMark, AS SSD, etc for reporting 4K random read speeds, e.g:

The issue is these tools first generate a test file in the SSD, then test read/write within that file. Since the test file starts in SLC cache, the 4K random read score is amplified by SLC caching.
It is well known that 4K random read with small files determines system/app smoothness. But think about it - the OS, apps, games we install only initially go into SLC cache. After one reboot, they certainly get kicked out of SLC cache into native TLC area. When launching those apps/games, we are relying on native TLC 4K random read speed, not SLC cache.

In other words, SLC cache only benefits newly written files. For frequently used software and games, smoothness depends on native 4K random read speed.
Therefore, we also tested native/uncached 4K random read on the KP260 Pro, scoring 33.58MB/s.
Very decent for a PCIe 4.0 mid-range drive. Even the benchmark Crucial TiPlus7100 only scores 32.92MB/s here.
Due to NAND limitations, native TLC 4K random read is hard to improve, with current flagship consumer drives only around 65MB/s, not too far from mid-range models.
This explains why many users report minimal boot/smoothness gains going from SATA SSD to PCIe 4.0 SSD.
Conclusion
The above is my full test and review of the KP260 Pro, an excellent value PCIe 4.0 mid-range SSD. To summarize:
ü Strong performance for the price, great as game/data drive with speeds exceeding Windows limits, no real world bottlenecks.
ü Very optimized controller tuning for aggressive performance within stability limits.
ü Stable behavior with dynamic SLC caching and excellent native random read/write speeds matching top HMB SSDs, delivering great and consistent performance over time.
ü High cost-effectiveness, with good enough performance, 1TB models currently only 289 RMB on JD, or 250 RMB on PDD - much cheaper than PCIe 4.0 max speed SSDs.